Hot from my mailbox is my brand new Juicy Couture Sugar Scrub in the Couture Couture fragrance. I love Juicy Couture's signature fragrance and am particularly smitten with Viva La Juicy, but have never tried Couture Couture. I figured what better way to try an expensive fragrance then by trying the less expensive sugar scrub before committing?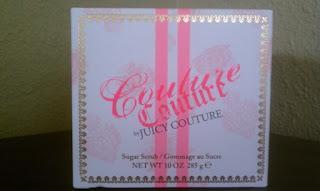 Last week I was trolling eBay, because I am obsessed, and stumbled upon a Buy It Now listing for the scrub. The Buy It Now price was $27.00 which is awesome since this mo fo retails for $45.00. So about half off. SOLD!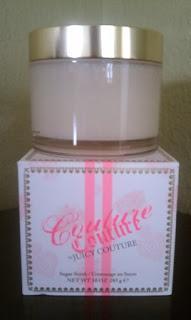 The Couture Couture fragrance is a mix of pink grape accord, orange flower, mandarin, blushed plum, honeysuckle and creamy sandalwood. Besides the pretty fragrance the sugar scrub contains grape seed oil, honey and macadamia nut oil along with sugar (duh). So you are scrubbing away dead skin and moisturizing what's underneath to keep it....um....not dead?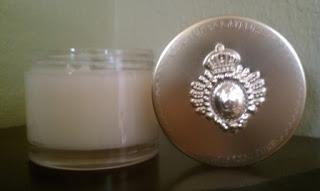 Of course the packaging is to die for. All girly and fancy, which is what Juicy Couture does best. The jar itself is glass and very hefty. There is 10oz of scrub in this sucker and it should last me a long time. You feel super fancy unscrewing the gorgeous gold lid that has the Juicy Couture crest embossed on it. And then you get to the good stuff.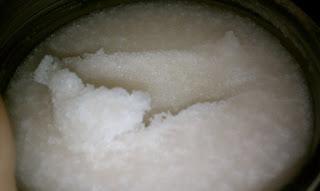 The scrub is thick and heavily perfumed. But the scent is lovely and not overpowering at all. I find that with sugar scrubs, when you use them in the shower you have like a half a second to rub it all in before it dissolves. Not so with JC's scrub. I had time to scrub away! You can feel all of the oils melting into your skin and it leaves you lightly scented and moisturized. It did leave behind a hint of oil in my tub, and I probably will slip and injure myself at some point, but small price to pay for discounted Juicy! AND....it might be a good thing, since my scrub will last longer as it is difficult (impossible) to indulge in a scrub while wearing a full body cast. So YES!
I am super stoked that I was able to score this at such a great price and truly love the formula and scent of the scrub. However, I am very happy that I did not purchase the fragrance. I feel like it is a bit too floral for me. As long as it is contained in the shower though, and only leaves a smidge of fragrance behind, I'm all for it. Besides, I can only really see me using this once or twice a week. I still love my Le Edge, but sometimes long for a scented body treatment. I will absolutely try the scrub in the Viva La Juicy fragrance though. That perfume is more my speed. All sweet and musky. Hey that kinda describes my personality. :)
Juicy Couture Couture Couture Sugar Scrub retails for $45.00 and can be purchased at neimanmarcus.com*
Check out the beautiful world of Juicy Couture here.
*OR you can obsess over eBay like I do and probably score some for yourself on the cheap too.