Aloha!
I'm Kathryne, the owner and author of thefabziila.com, a blog about beauty, DIY and lifestyle. I live in the island of Oahu, Hawaii. I am a licensed healthcare professional by title, a jewelry artisan on the side, a dog mama to a smart English cocker spaniel, and a domestic diva to a man who supports my multi-faceted passion.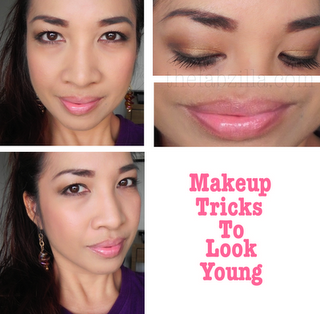 Makeup Tricks To Look Younger
Truth be told. This author is two years away from the big 4-0! I remember crying when I turned 30 - Age has kicked in, and so I thought. But honestly, I stopped counting my age at 31. I figured " Age is more than a number, it's a feeling!". Feel young, look young. I'm no poster child for that elusive fountain of youth but I have been asked many times by friends for tips. I'd say having a happy disposition and staying away from senseless drama helped me in more ways than one. Plus these tricks.
1. Well- groomed and full brows frame your face and make you look years younger. As women get older, brows and lid start to droop. One quick solution is to draw a slightly raised arch. With eyeliner pencil or eyeshadow, outline your brows and fill the space in between with color closely matching your brows or hair. 
2. Fake the look of tired or haggard eyes. If you are sleep-deprived, stay away from smokey eye makeup or heavily -lined eyes. Opt for neutrals. Light purple or bronze eye shadow perk up your peepers. Mascara is an instant eye booster, apply at least two coats.
3. Lip gloss creates an illusion of youthful lips. Choose shades that are on the pink side to enliven your aura.
4. Pull your hair back or away from your face. Take it up a notch. Instead of traditional ponytail, take several strands from the back of your ponytail, braid, wrap around ponytail and secure with bobby pins.
5. Use highlighter to create a youthful and dewy appearance. Dust a little of highlighter on top of your cheekbones, nose bridge and in your cupid's bow. 
Stay fabulous everyone!
Kathryne
Links to my social networks:
Blog: thefabzilla.com 
http://www.thefabzilla.com/
Twitter: 
https://twitter.com/fabkath36
Facebook: 
https://www.facebook.com/KathTheFabZilla
Youtube: 
http://www.youtube.com/user/fabkath36?blend=3&ob=5%22
Pinterest: 
http://pinterest.com/TheFabZilla/
Beautylish: 
http://www.beautylish.com/fabulouskath
Hellocotton: 
http://www.hellocotton.com/mypage/thefabzilla
Bloggers.com: 
http://bloggers.com/Fabkath36