I know I have been raving a lot about products from The Body Shop.  It is just amazing to find stuff that works, does not irritate my skin and is more affordable.  These eyeshadows are also amazing.  I have a checklist of things I look for in my eyeshadows.  And these meet all of my criteria, which are as follows.
   1.) Texture is soft and smooth, not powdery or chalky.
   2.) Nice pigment.
   3.) Easy to apply and blend.
   4.) Long lasting with no creasing.  These shadows stay on me better than any.
   5.) No irritation whatsoever: redness, itching or watery eyes.  
One unique quality of this shadow is that it has marula oil in it, as do many of the cosmetics from The Body Shop.  Marula oil is full of antioxidants and moisturizes the eye lids.  It also gives the shadow its smoothness.
Shades, which I hope to add more of :)
1.) 41 (Golden Peach): a light, shimmery copper.
2.) 32 (Chocolate): medium brown, chocolate is the perfect description.
3.) 38 (Spearmint): pale, shimmery, light mint green.  I'm at a loss for words on how to describe this one.
4.) 43 (Velvet Green): a beautiful forest green, probably my favorite shade of the bunch.
5.) Eye Shimmer in 06, which is an iridescent light pink, which is actually less shimmery than the other shades. 
The packaging is nice and simple.  It is round, silver and you can see the shade through the top.  They are $9.00 each, so they are a little more expensive than most drug store brands (but much better quality) and cheaper than brands sold at Sephora.  I give them an A++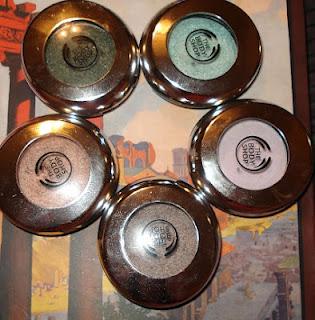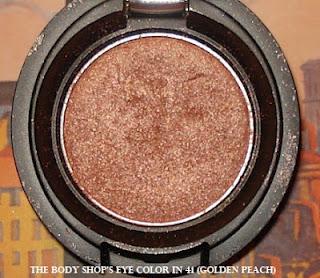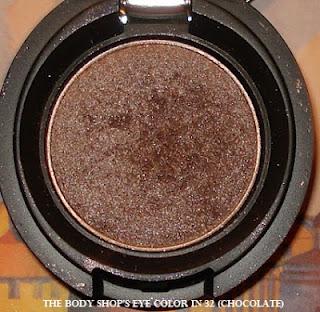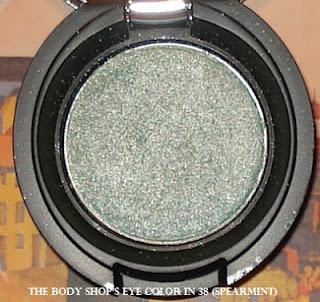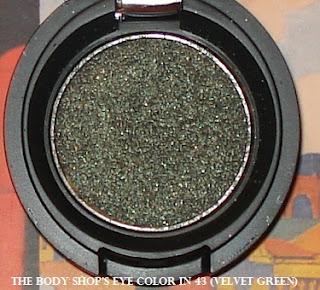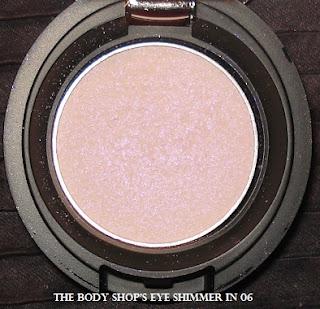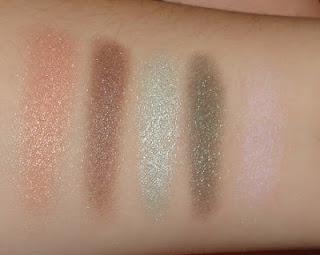 Golden Peach, Chocolate, Spearmint, Velvet Green and Eye Shimmer in 06