I though it would be good to post what my daily makeup routine is. I have been following this routine for awhile and it has caused me no problems and conceals alot of my blemishes pretty well. Which has been especially important since my skin has been breaking out a lot recently, but is getting better(slowly).  This does not look cakey or fake. First, is a picture of me with no makeup on other than a nude gloss.
Some days I will omit concealer if I don't need it, or only use the Halo. Generally, this is what I stick with.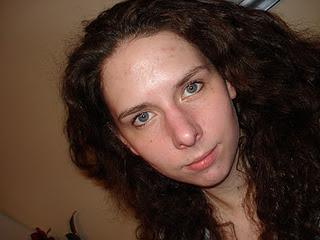 1.) Apply Loreal Magic Perfecting Base and Bobbi Brown Hydrating Eye Cream.
2.) Apply Bobbi Brown Corrector and Creamy Concealer Kit using a concealer brush (I like Sonia Kashuk brushes a lot) I apply using the brush and blend slightly,then I further blend using my finger.
3.) Apply a tan eye primer. I like Lancome's Aquatique or Urban Decay Primer Potion in Eden.
4.) Apply the light color from Urban Decay's Brow Box in Honey Pot.
5.) Then I apply a translucent powder over my eyes to set everything. I use MUFE HD powder.
6.) Apply Amazing Cosmetics Concealer on blemishes.
7.) Apply NARS Illuminator in Copacabana all over face.
8.) Apply foundation..I will use Lancome Teint Miracle or Revlon ColorStay.
9.)Apply blush. Recently I have been using NARS Blush Duo in Hungry Heart or Lancome Blush Subtil in Miel Glace.
10.) Apply Smashbox Halo and lightly apply a translucent powder. And voila.