Alrighty… so full discretion, I have deleted and re-written the beginning of this post 3 times now.  I have no idea how to start it off.  Let's try this again: The past year or two, I've been blogging from a desktop computer.  That doesn't bode well for a busy body like myself so I haven't made much of an appearance around these parts lately, but my blogging bug has been biting for quite some time.  I decided that it was time to switch the desktop for a laptop so I could be more full functioning in the blog world and with my Arbonne business.  So here I am, yay!  I'm excited to use my time more efficiently by popping into a coffee shop in between work and an evening event or during lunch to get some work done, blogging or otherwise.
Now the question is… what post should I start with?!  How about something fun?  Yes.  Something Fun.  And not just a little fun, but a lot of fun!
Let's chat about my recent Disney Princess Half-Marathon today!!
In true Nick & Heather fashion, we left Jackson right after I got off work Thursday and decided to drive through the night.  We arrived to Orlando Friday morning.  It's been a little while since we took this trip and I'm not putting all the pieces together, so this may be a hodge podge of events throughout our trip.  I know that we hung out around the parks on Friday, but I don't recall which ones because apparently I didn't take pictures.  On Saturday though, we hit up Magic Kingdom!  I needed a nice carb-loaded breakfast to prepare myself for race day so we tried something new, Belgium waffles from Sleepy Hollow.  Let me tell you, we were extremely pleased.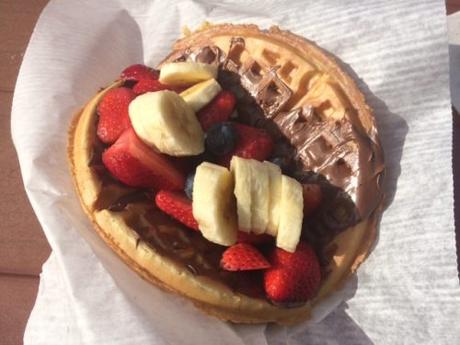 I went with the nutella waffle that came with deliciously fresh bananas and strawberries.  It was a great serving size for the price and I'll definitely be getting this again!  Nick got the Waffle with Strawberries & Whip Cream.  He really enjoyed his too.  The strawberries on his were more of a syrup-like blend of strawberries, which I'm not a huge fan of, so I'm really glad I went with the nutella option.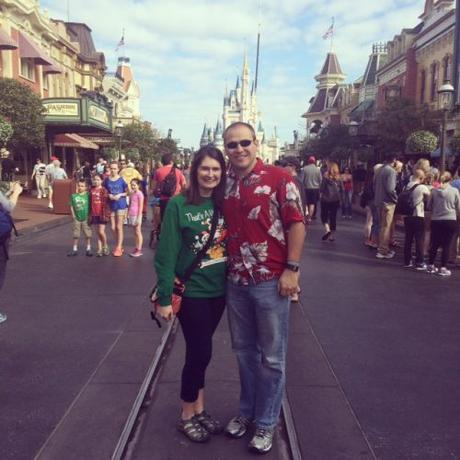 Later that day, Kathryn & her friends finally got to Orlando and we went to the Expo to pick up our packets.  At this point, Nick and I split up.  Nick met up with Trey & Cade for dinner and quality time while I went off with the girls.  Kathryn sent me the most adorable picture of Cade & Nick walking together.  They're relationship is absolutely precious!  Cade looks up to his Uncle Nick so much and is obsessed with saying his name.  The girls went on a short jog to warm up our legs before race day and then soaked our feet in the hot tub.  We decided on a relaxed dinner at the pool before heading upstairs to get ready for a very early morning.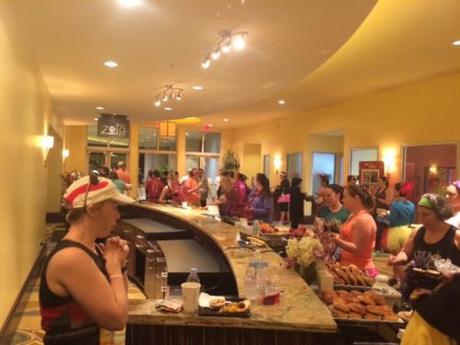 The alarm went off at 3:30am (if I remember correctly) and we got ready for race day!  The hotel we stayed at was incredible.  They had the biggest send off party.  The staff had signs and were taking pictures for us and cheering us on as we walked down the hallways.  They provided a free breakfast spread full of fruit, granola bars, bagels, coffee, and water bottles.  Kathryn and Kelly got on the first send-off bus, but Laura and I missed it so we grabbed the second bus.  It actually worked out in our favor though because the first bus got lost and we arrived before they did!  They made it in plenty of time though and we headed towards the starting line.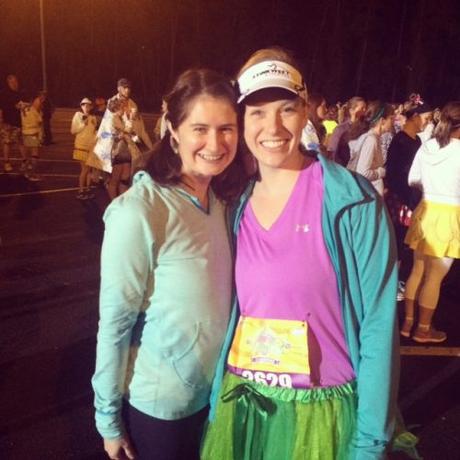 This race turned out to be a lot better than I expected if we're being honest here.  I did a really good job pacing myself and was able to run about 5 miles without any trouble.  I started noticing slight knee resistance, so I started stopping at character pictures to give me time for stretching in between running.  I kept up with that for another 5 miles.  I noticed that I was slowing down a lot more towards the end, which was to be expected.  Luckily, right around this time, I got an extra burst of motivation when I ran into Meg from My Borrowed Heaven.  We ran off and on together for a few miles until I had to actually stop and stretch really good because my thighs were seizing up.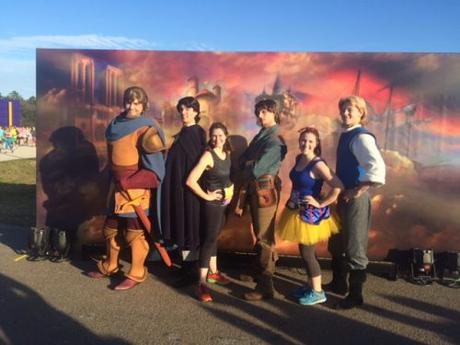 Once I got my thighs all stretched out, I finished the race strong! Overall, I was very pleased.  It wasn't my best time, but with all the knee issues I've been having the past few years and with how awful my Disney Wine & Dine Half was, I was thrilled with how I felt overall.  I also had the best cheer squad ever!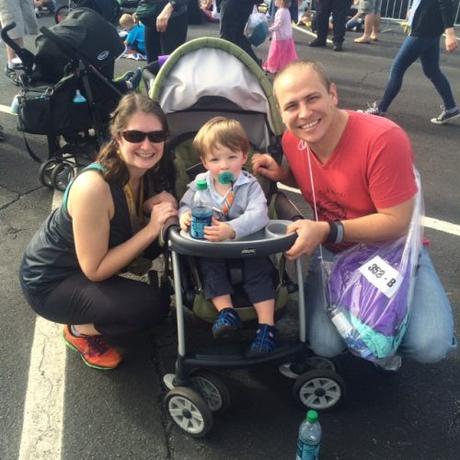 After the race, we went and relaxed at the hotel room for a bit, then headed off to Epcot for a celebratory dinner at Tokyo Dining in Japan.  Nick and I stuck around Disney for another day before heading back to Jackson.  It was a short, but super sweet trip.  We had a blast, I had another successful half marathon, and we got to spend some quality time with our favorites.  Of course, every time I go to Disney, I never want to go back home.  I'm looking forward to our next visit, even though we're not really sure when that will be at this point.
I'll call this a successful post back to blogging – I could talk Disney all day & all night.
Did you do the Disney Half Marathon?
What's the best race you've ever participated in?