I was looking through my blog archive and noticed one of my top viewed recipes was this Quinoa and Spinach salad with a smoked paprika vinaigrette. This is the vinaigrette this is my go to for salads now, I just make it without even thinking about it. This salad is seriously delicious and one of the few things I have made over and over again.
This is one of those big salads for a meal kind of recipes and it is filing, full of flavor and there are so many vitamins, minerals and antioxidants packed in here.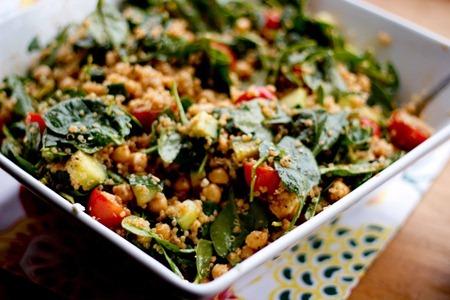 Ingredients:
1 1/2 cups quinoa, rinsed and drained
4 cups (packed) baby spinach leaves
2 15- to 16-ounce cans garbanzo beans, rinsed and drained
1 unpeeled English hothouse cucumber, cut into small pieces
1-pint grape or cherry tomatoes, halved
1 cup (packed) fresh mint leaves
1 1/2 cups coarsely crumbled feta cheese (about 7 ounces), divided
1/4 cup red wine vinegar
2 1/2 teaspoons smoked paprika
1/2 cup olive oil
Directions:
Place quinoa in large saucepan; add enough salted water to cover quinoa by 1 inch. Bring to boil. Reduce heat to medium-low; cover and simmer until quinoa is tender, 15 to 16 minutes. Drain. Chill until cool.
Combine spinach leaves, garbanzos, cubed cucumber, halved tomatoes, mint leaves, and half of feta cheese in extra-large bowl.
Add cooled quinoa and toss gently to blend.
Whisk vinegar and smoked paprika in small bowl. Gradually whisk in oil. Season dressing with salt and pepper.
Pour dressing over salad; toss to coat.
Season generously with salt and pepper.
Sprinkle remaining feta over.