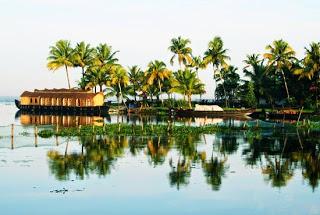 Well talked about by millions Kumarakom is a pretty little castle island fascinated
among ornithologist and bird watchers who are looking out for a place to enjoy free days spending with wildlife and wild nature Kumarakom is meant for such tourist. Set in the backdrop of the verdant Vembanad Lake lively and fresh the town too looks the same and has the same similar stimulating nature.
Kumarakom backwater today is one of the most active and vibrant backwater hot spot of the state. Teeming with incredible countless number of tourist and visitors this little backwater resort has taken an important place in the state, it is actually a tiny town formed by the cluster of small islands simple and ordinary like any other countryside town yet spell binding and captures more than thousands of tourist almost every year.
The attractions here are nothing but the serene nature of the surrounding landscape created by the cool scintillating backwater, the background scenery of the evergreen lush forest where wildlife feast on day and night especially the migratory birds that breath here during extreme season in their hometown makes the place a lovable home not only for wildlife living creatures but also it has become a nest to all those who have lose their sense in the world of adventure which means travel and adventure lovers.
Yes the beauty of nature and its wealth possess by the town in terms of rich flora, fauna and diverse picturesque landscape is also one of the main reason why tourist often visit this place but the lure does not end here another reason why this particular backwater areas though small in size and compared with other tourist destination has not much beauty and lust still attracts more tourist is also due freelance lifestyle living simply as a fisherman fishing and earning their livelihood with any industrial business or other modern system of life is also another reason for its popularity among tourist and leisure escapers.
Here fishing, boating, loitering around and watching birds and strolling around the countryside makes this destination a hunt for all leisure hedonist tourist and is a unique place that is look forward every nature lover and every holiday travel seekers. 
Yes, if you wish to enjoy the pleasure and happiness of mingling and living the lifestyle of Kumarakom the best activity you can take up is either go for backwater cruise with houseboat or you can even cruise its lake by a simple ordinary traditional boat of you want to experience the true joy of adventure and see the true color of the state. 
Backwater cruise is one of the best means to explore the overall beauty and surrounding attraction by sailing solemnly and steadily on the glittering sunlit rays following the ripples side by side on the banks and sometimes across the vast lake you can capture numerous wonderful sites and also eye witness many living creatures and is one of the best experience you can ever make here.