Review of:
Models Own Hedkandi Bora Bora Nail Polish
Price:

£5.00

---

Reviewed by:

newwithhashtags

Rating:

4

On

August 28, 2013

Last modified:

August 28, 2013

---

Summary:
More Details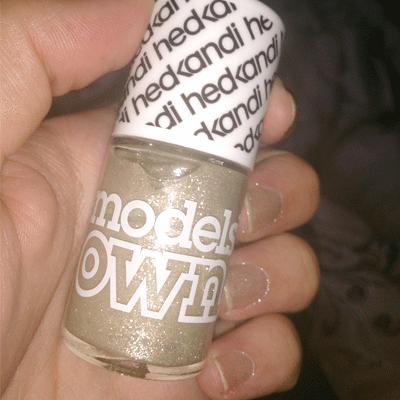 Getting sparkly is easy with Models Own Hedkandi Bora Bora nail polish! It's a subtle shimmery gold nail polish, and, never one to miss an opportunity to try out a new polish, I was eager to give this one a go!
I've heard mixed reviews about the Models Own brand. Some people say it's cheap and nasty, others like that it is reasonable quality and price. I haven't actually tried any of their products, and was tempted to walk away altogether when the young assistant was insistent on making me try a fruity smelling nail polish (horrid, by the way…), but Bora Bora caught my eye and wouldn't let go.
This is a semi-translucent nail polish with really small shimmery pieces of glitter in it. It's a pale gold color which would look great over the top of another nail polish, or applied with 2 to 3 coats on nude nails for a truly sparkly effect. As a single coat it's subtle and pale, and even with 2 it's not bling at all (see the picture above for 2 coats). It's actually quite pretty, and seeing as the coats dry reasonably quickly and evenly you won't have to wait too long to decide which finish you'd prefer. I went for 2.
Whereas most nail polishes feel smooth, this one does feel grainy. It's held up well though and has only begun to chip after 4 days. I haven't applied any base or top coat, so I'd imagine it would last much longer and feel a lot smoother with these. Overall it's not bad for £5; the applicator is wide, the polish dries quickly and lasts reasonably well. I'd be eager to try alternative shades though to see if they feel any smoother, but otherwise Bora Bora is great and I would recommend it!