This a little more edgy Holiday look that could be worn year round since it is not as bright or "frilly" as many Holiday looks. I used the Tarte True Blood palette for this (Got it on sale at my Sephora inside JC Penney..score!) I wanted to use an emerald green and red/burgundy; something that resembled mistletoe.
Eyes:
Korres Quercetin and Oak Anti-Ageing Eye Base
Bobbi Brown Corrector and Concealer Kit
Lancome Color Design Shadow in All That Glitters
Tarte True Blood Palette: Moss, "V" and Dusk
Lancome Cils Booster
Lancome Doll Lashes Mascara
After letting the primer fully dry, I patted "All That Glitters" using a flat, stiff shadow brush over the lid and almost to the crease. I used Moss in the crease and outer V and blended it really well using a crease brush. Then I softened the edges using Dusk(matte light tan) and also applied on the brow bone. I applied "V" along the lower lash line.
Face:
Korres Quercetin and Oak Primer
Korres Quercetin and Oak Concealer
DiorSkin Forever Flawless Foundation
Lancome Blush Subtil in Aplum
Lips
Yves Saint Laurent Rouge Pur Couture in #9 Rose Stiletto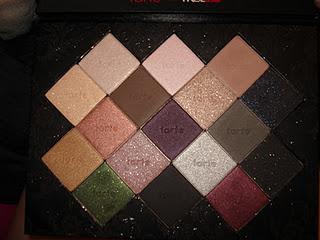 Dusk is the matte tan in the top right, Moss is the green in the bottom left and "V" is the burgundy.