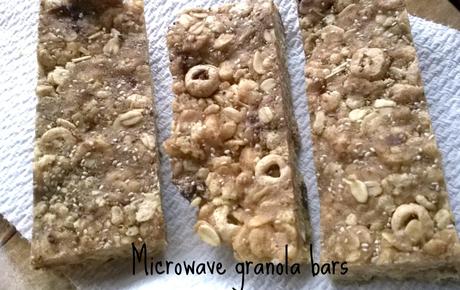 Easiest granola bars ever!
I have made this recipe at least 10x in the last month! I'm going to post the basic recipe, but it's super flexible, you can add a variety of different ingredients based on what you have in your pantry.
These are super filling too – I've had one for breakfast and it's kept me full until lunch.
The reason I've made them so much is that they don't last long in my house!
You will need an 8×8 glass dish (like for making brownies) or you can double the recipe and use a 9×13 pan too.
Print Microwave granola bars
Prep Time: 6 minutes
Other variations I've made - added cheerios instead of rice krispies, added chocolate chips, or drizzled melted chocolate on top once cooled.
You could add dried fruit, nuts - whatever you like - as long as you keep the peanut butter/corn syrup/brown sugar part - whatever you add will always work.
If you use honey instead of corn syrup, add only 1/4 cup - if you add a 1/2 cup of honey - it's a little bit too much honey flavor.
Ingredients
1 cup peanut butter
1/2 cup corn syrup
1/4 cup brown sugar
1 pinch salt
1 tsp. vanilla extract
2 cups oats
1.5 cups rice krispies
1/4 cup flax seeds
1/4 cup chia seed meal
Instructions
In a large microwave safe bowl, add the peanut butter, corn syrup and brown sugar and cook for 1 minute.
Stir together until smooth. Add the salt and vanilla extract and stir again.
Add the oats and rice krispies, flax seeds and chia seed meal and stir for at least a few minutes.
It's necessary to stir it a lot so that all the oats are coated with the peanut butter mixture.
Line your 8x8 pan with foil, spray with cooking spray.
Spoon the mixture into the pan. Using a piece of wax paper (or your hands) push the mixture down for at least 2-3 minutes. The more you push down on the mixture, the more packed it gets and will ensure that the bars will stick together.
Freeze for 15 minutes, or put in the fridge for at least 30 minutes.
Remove the foil, and cut into the size bars you want.
Store in the fridge - but these won't last long!
Schema/Recipe SEO Data Markup by
ZipList Recipe Plugin
2.2
http://www.slim-shoppin.com/microwave-granola-bars/
For this recipe, I use chia seed meal – it's basically just ground up chia seeds.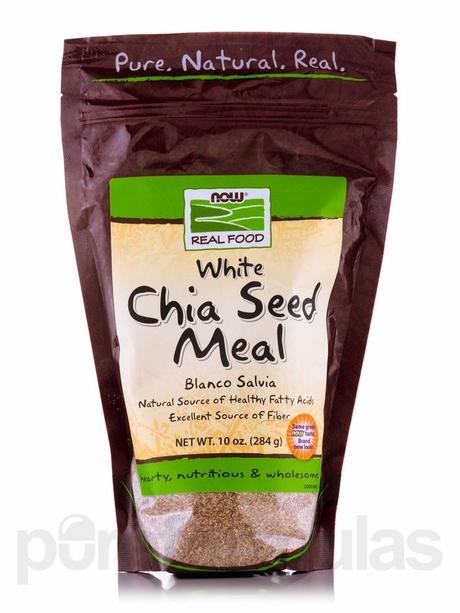 You can purchase it online HERE – with free shipping or I bought it at a local natural food store called Fruitful Yield in the Chicago area. You can also buy it at Whole Foods as well.
I will use the chia seed meal in pancake batter, muffins, waffles, in a smoothie, or sprinkle it on cereal.
Check out the benefits of chia seeds/chia meal with this article here
The most expensive ingredient is peanut butter, which I buy at Aldi Foods at about 1/3 of the price at a regular grocery store, which will help in bringing down the cost of making these. FAR cheaper than buying them pre-made from a box!
What is your favorite kind of granola bar?