Saturday night I had a few dear friends over for dinner, wine, a fire and a chance to catch up. It was low key but a night I think a lot of us needed. There were no hopping clubs or shots just a chance to enjoy delicious food and curl up with a few glasses of wine. It was perfect. Everyone brought something to share and I made a few heartier items. The first one on that list was a Kale and Brussels Sprouts salad. Vegetarian friendly, gluten free and really good. It brought some of those flavors of fall into a healthy salad.
The key to this salad is the raw shaved Brussels Sprouts. With the group I had coming over I knew most of them would be all for the sprouts. I used about a cup and shaved them with my mandolin. They added a great flavor to the salad! Don't skip them. And I am always the one that makes sure there are plenty of healthy options on the table!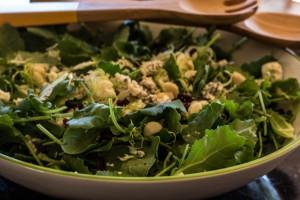 Print

Meatless Monday: Kale and Brussels Sprouts Salad
Prep Time: 10 minutes
Total Time: 10 minutes
Serves 6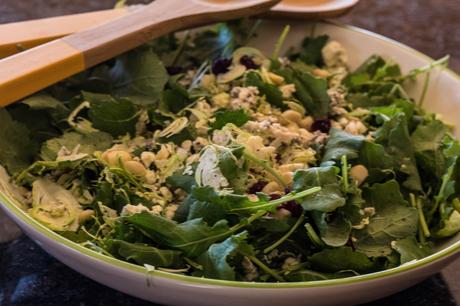 A great Fall salad with kale, Brussels Sprouts and a homemade dressing.
Ingredients
4 cups baby kale
1 cup shredded, raw Brussels Sprouts
2 ounces blue cheese
1/4 cup dried cranberries
3 tbsp chopped macadamia nuts
For the Dressing
1/4 cup hazelnut oil
1 clove garlic, finely minced
1 tbsp Dijon mustard
3 tbsp balsamic vinegar
Salt/Pepper
Instructions
In a large bowl toss together the kale, Brussels sprouts, blue cheese, cranberries and nuts.
Whisk together hazelnut oil, garlic, Dijon, balsamic vinegar and salt/pepper.
Pour over salad and serve immediately.
Schema/Recipe SEO Data Markup by
ZipList Recipe Plugin
2.6
http://www.afitandspicylife.com/2014/10/20/meatless-monday-kale-and-brussels-sprouts-salad/