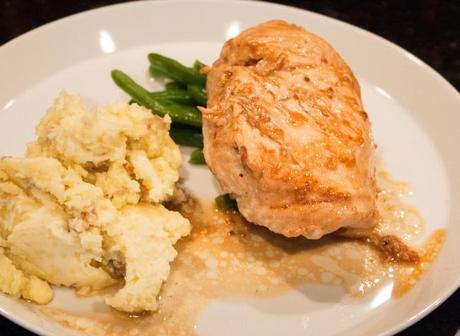 As I've said in previous meal planning posts we are gluten free. Sometimes we are even dairy free, but not always. Shh, don't tell anyone, Ok? Today we are not dairy free, hence the wonderful addition of Gruyere cheese in this recipe. The melting cheese makes the most wonderful sauce for the chicken. I adore this meal. I hope you like it as much as we do.
Monday – Chicken saltimbocca gruyere  with mashed potatoes and green beans
Tuesday – Veal picata  with salad
Wednesday – Pork chops with potatoes au gratin and veggies
Thursday – Cuban picadillo with fried bananas
Friday – Bahn Mi Style Burger
Chicken Saltimbocca Gruyere
4 single chicken breasts without skin and bone
8 slices of prosciutto
5 oz of Gruyere cheese, shredded
toothpicks
3 tablespoons butter
1 glove garlic
1/2 cup white wine
juice of one lemon
Place one chicken breast in a zip lock bag and using a mallet, pound the breast thin. Repeat with the other chicken breasts. Layer 2 slices of the prosciutto on each chicken breast, top with 1/4 of the cheese.  Roll the chicken breast so that the prosciutto and cheese are contained inside the chicken breast. Secure with toothpicks. Repeat with all chicken breasts. In a large skillet melt the butter. Saute garlic for a moment or two and then add chicken breast. Allow the breasts to brown on each side. Add wine and lemon juice to the skillet. Reduce the heat to medium-low and cover so that the chicken can cook fully. Serve with sauce from the pan.