After reading today's review, you will totally realize why I seldom review mascaras (or rather, after seeing today's photos). I've got terrible, terrible panda eyes (and is that a hint of millia seed I see?!)
But then, for the greater love of every beauty junkie who comes here, I have sacrificed my public reputation and put my undereyes on display. Prepare yourselves!
Maybelline The Rocket Volum' Express Washable Mascara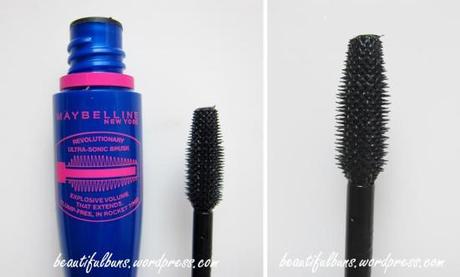 The special ultra-sonic brush that's meant for more precise application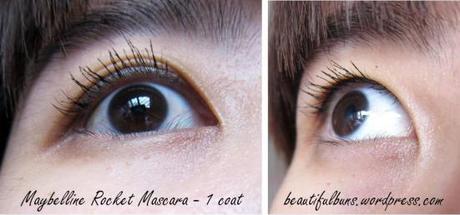 And yes, that's me with zero makeup on except for mascara. zilch. And nope, I didn't even bother curling my lashes.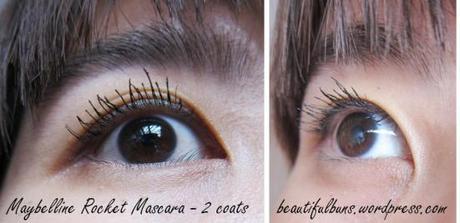 Thicker and longer lashes with 2 coats of mascara.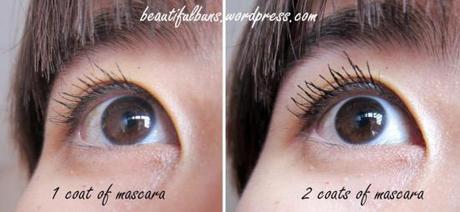 Comparing 1 coat vs 2 coats of mascara – quite a decent uplifting effect considering I didn't even curl my usual poker-straight stubborn lashes
I say…
This is actually pretty decent.  In the photos above, I did not use any eyelash curler, and I also didn't use an eyelash comb.
The bristles are different from the usual brush applicators – they can get rather prickly if they come into contact with your eyelids or the base of the lashes, so be careful.
One coat gives a pretty decent extension effect and there's not a lot of clumping.  It also uplifts the lashes (and mine are usually as straight as Line's Brown bear's expression).
Two coats gives it a more dramatic effect – more volume and more intense color. It also begins to clump very slightly, but nothing to the point that irritates me. Thankfully, the lashes remain up.
Smudging is quite minimal (not zero), and the mascara is easily washed off with water, coming of relatively cleanly in clumps of fiber (vs a complete smudge and washed-out effect).
Overall, not too bad a mascara indeed – it extends and lifts, but I do wish it had a slight bit more curling effect. But well, it's aptly named The Rocket – besides China and North Korea, I doubt any other country's rockets have taken off in a curved projectory hurhurhur.
Maybelline The Rocket Volum' Express Washable Mascara retails at SGD$18.90
0.000000
0.000000