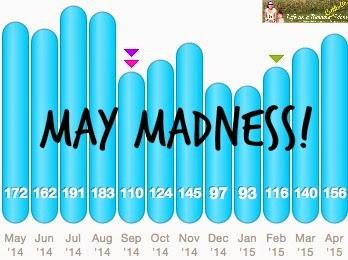 Aloha and Happy Aloha Friday and MAY DAY!
If you follow my facebook page you saw the sneak peek into May Madness at Life as a Running Mom. Today, I am inviting you all to join in and bring a friend, or two, or three!
But first, the background. The past couple of years I have done April Abs with a focus on my....abs! This April my focus was all over the place in life but in running, it was on base and getting a solid running foundation. In reflection I came to the conclusion that I was over trained for the Maui Marathon last year and that carried over into the Honolulu Marathon and you can see how it impacted my mileage (image above). Last April I ran 170 miles. YAY! I love high mileage but this year I am striving to run consistently, run well, and not push myself to continually surpass the mileage from the previous year's month.
With my running mileage in a good zone and my legs feeling good, it is time to focus on the whole body hence May Madness. I am incorporating the core work with planks but adding in push up's for stronger arms and bridges as my doctor recommends them for the pesky hip/upper hamstring issues I have.
In a nutshell, here is the plan....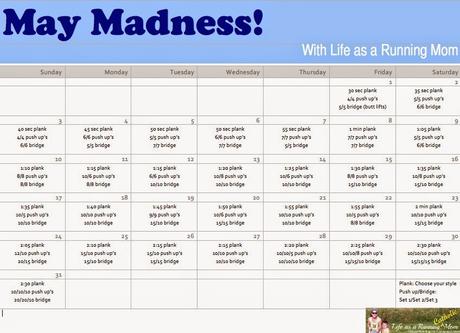 Since I wanted this to not scare anyone away, the plan is set for the beginner level. Feel free to adjust it to fit where you are right now. If you are already planking minutes a day, up the initial plank to below your maximum because you are going to grow it throughout the month. You will also be doing push up's and bridges (or butt lifts) and growing those throughout the month. Once again, to fit the beginner, the push up's and bridges are listed in sets in the format xx/xx. Do xx push up's, xx bridges, xx push up's, and xx bridges. If you can do the full amount of push up's and bridges in one set, go for it! The idea is to add a little bit throughout the month and get to a stronger me and you by the end. And please, hop over to my facebook page, like it, and follow along there. I would love to hear how you are doing and I will be posting videos and encouragement there to you all!
Videos like this one....Day 1 of May Madness!! And hopefully as I make more videos for you, I will be able to keep my form 100% on target while still talking. Something to work on!

I hope you join along and look forward to hearing from you because hey, it motivates me to keep it up!
Daily Gratitude: I am thankful for darling daughter taking the video for us.
Daily Bible Verse: Give, and it will be given to you. Good measure, pressed down, shaken together, running over, will be put into your lap. For with the measure you use it will be measured back to you. ~ Luke 6:38