Review of:
Mavala Nail Colour Cream - Fresh Melon (182)
Price:

£4.50

---

Reviewed by:

newwithhashtags

Rating:

4

On

April 30, 2014

Last modified:

April 30, 2014

---

Summary:
More Details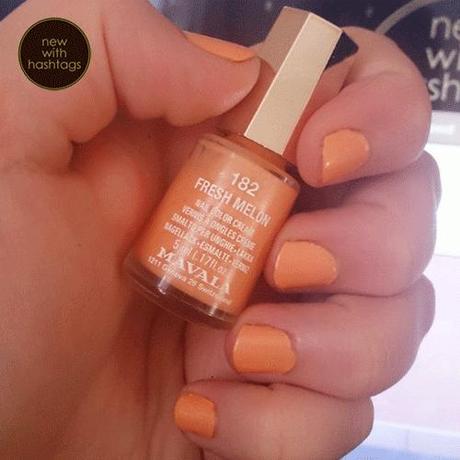 This eye catching orange nail polish is by Mavala. It's a small 5ml pot with a gold lid, and is made by a brand I haven't heard much about. Will it take off?
Yes, I think so! Mavala has lots of different coloured nail polishes, or 'nail colour creams' as their bottles say, so you're sure to find at least one that catches your eye. From pastels to shimmery dark colours, these pots are the ideal size to travel with, or simply to try new colours without too much expense. They cost £4.50 each, and so far I've only spotted them for sale in a couple of Boots stores. I do hope they become more widespread because I'll definitely be buying more.
At the moment I have Fresh Melon (182) which is a pale orange colour. It seems to be bang on-trend and I'm sure it will look amazing once summer starts. That's not why I like this nail polish though. I like it because it's thickness and it's staying power is amazing.
Two coats of Mavala's Nail Colour Cream is enough to give a really good coverage, and after 2 days I didn't have any chipping. I didn't use a top or base coat (I really should start doing this!), but even after 3 days chipping was minimal. I did notice some scratch marks on a few of my nails, though, so decided to apply a third coat. It didn't dry properly and smudged, so heads up if you're planning on doing this.
Otherwise, I'm happy with the Mavala nail polish. It lasts well, there's a good range of colours and the price is reasonable. The pot looks stylish too. Better yet, they're natural! If you'd like more info about other green brands, click here.