Hey there nail enthusiasts! Today I'm showing you a tutorial for how to do this matte black nail design that I created on my nails. In the video I show you how to use a matte topcoat and how to easily apply rhinestones with an amazing product that I found very useful. These nails are chic yet playful and I think they looked awesome. If you agree with me, please try them out and tweet me a picture! I'd love to see how yours turn out!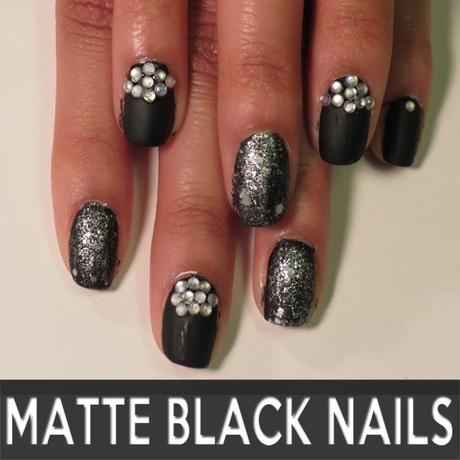 Subscribe to Offbeat Look on YouTube if you like videos like Matte Black Nails With Glitz

Here are a list of the products I used to make this nail design. I try my best to link to products as similar as possible if the product that I used isn't available online.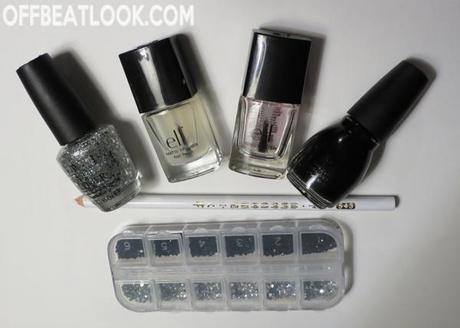 -E.L.F. Nail Polish – Clear [Eyes Lips Face (E.L.F.)]
-Sinful Colors Professional Nail Polish – Black on Black [Similar Item Here]
-OPI Nail Lacquer – Crown Me Already [Similar Item Here]
-E.L.F. Nail Polish – Matte Finisher Clear Nail Polish [Eyes Lips Face (E.L.F.)]
-Rhinestones – Silver [Born Pretty Store]
-Rhinestone Picker Pencil – Clear [Born Pretty Store]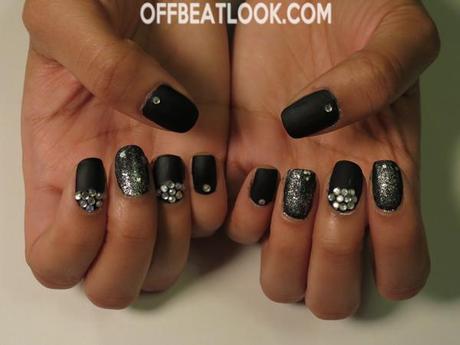 Steps:
1. Paint a clear coat on all of your nails
2. Once dry, paint a black coat on your nails
3. Add a second black coat
4. Put clear nail polish on the nails that you want to add the rhinestones to and use a rhinestone picker pencil to pick them up and arrange them the way you want them on your nails.
5. Paint clear polish around the stones to secure
6. Add glitter to other nails
7. Add a matte topcoat and let dry
Enter your email address:Delivered by
FeedBurner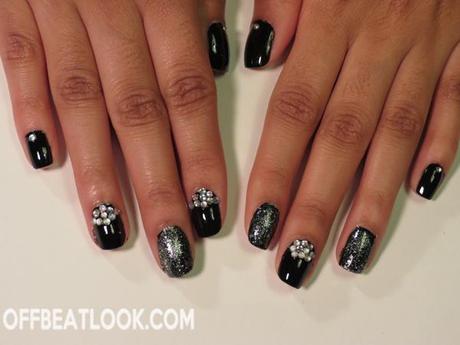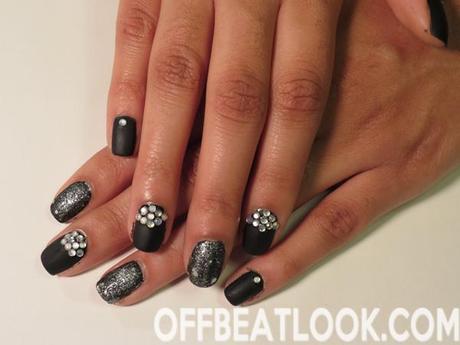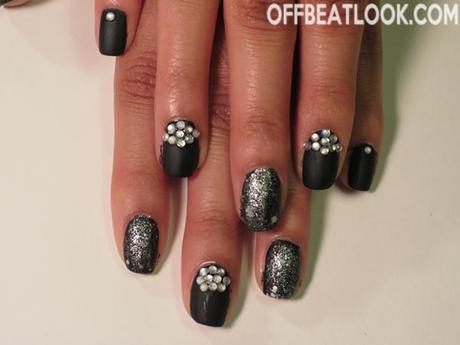 Thanks for visiting OffbeatLook.com by Camille Johnson; a blog on fashion, beauty, and everything in between.
Tagged with: 2014 • alternative nail blog • beauty blogger • beauty guru • best nail blog • black • Camille • Camille Amber Johnson • Camille Johnson • cool nail tutorials • easy nail design • easy nail tutorials • fashion • fashion blogger • fashion guru • finger nails • glitter • matte • nail • nail art • nail blogger • nail blogs • nail design • nail guru • nail guru on youtube • nail look • nail polish • nail tutorial • nail youtuber • nails • offbeat look • offbeatlook • rhinestone • shopping • simple nail design • simple nail tutorials • sparkly nails • trendy nail blog • trendy nails • youtube