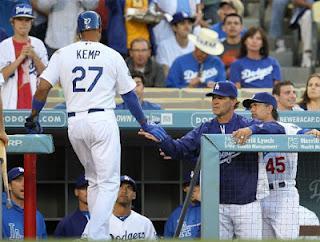 Photo: Zimbo.com
- Troy Ballard
Somewhere, Magic Johnson is shaking his head and saying, 'seriously?'
What started as a red-hot and close to record-shattering season for Los Angeles Dodgers star outfielder Matt Kemp, has quickly turned into a trip down injury-lane.
For the second time this season, Kemp has aggravated his hamstring and is now looking at around a four-week stint on the disabled list.
Surprised?
You shouldn't be. Despite Los Angles holding the best record in baseball at 32-18, the team is starting to feel the sting of not having 
Mr. Perfect
in the starting lineup. The training staff allowed Kemp every possible outlet to make sure he was totally healthy, and even with that -- he still is sidelined for a month.
And.. BAM! That fast -- Kemp went from being the best playing in baseball to riding the DL and hoping he can get back in four weeks at the minimum.
Kemp's main motivation this season was not to win the MVP award -- after he was robbed blindly of it last season -- it was to make a deep run in the playoffs, and possibly contend for a World Series. However, any chance that Matt-Matt may have had of winning the MVP may or may not have been kaboshed by his latest trip to the DL -- but the more pressing concern is with Los Angeles moving forward.
The Dodgers are riding a three-game losing streak as of now (no real reason to panic), but it has narrowed the team's lead to only 5.5 games over the San Francisco Giants. What is alarming is the fact that Los Angeles plays 28 games over the next month, and 19 of those are on the road. Arguably, this is a make or break stretch for LA.
Is it the absolute worst time imaginable to lose Kemp for a month? No.
The worst case scenario would be losing Kemp going into the postseason, but this upcoming stretch is still going to be incredibly difficult without him. This Dodgers team (and more specifically the offense) will end up being battled tested -- and hopefully will come out on top.
Realistically Kemp's injury could work in one of two ways for Los Angeles:
1. The team totally tanks without him and ends up losing the division lead..
or..
2. The Dodgers could end up becoming a stronger team without having to lean on him (much like the Chicago Bulls did without Derrick Rose), and because of that, LA will be better off in the end..
So far, the latter has not proven to be the case. But still, Andre Either is still a total monster, and by no means are the Dodgers totally desolate in terms of pitching. This team is not hopeless without Kemp -- and in the end, LA really will be able to do some soul searching without him.
And this way, it will taste that much sweeter when he comes back totally healthy.
Be sure to follow Beard and Stache on Twitter @BeardAndStache, and also Troy @TroyBallards, Like our Facebook page HERE!