And I literally mean massive. My mom and I have made 3 separate trips this week to 3 different stores.  I have had Extra Bucks, a 25% off coupon and some of  their makeup was 50% or 75% off.  Plus they had some buy one get one 50% off.  Basically, it would have been stupid to pass all of that up.  If you follow me on Twitter or Instagram, you have seen snippets of this almost disgustingly huge haul.  Seriously, I haven't the faintest idea where to put this stuff yet.
Haul #1
1.) Noxzema has been a long time favorite of my mom's and her skin looks far better than mine.  I've used it off and on throughout the years. I use it frequently between switching cleansers and my skin seems to like it.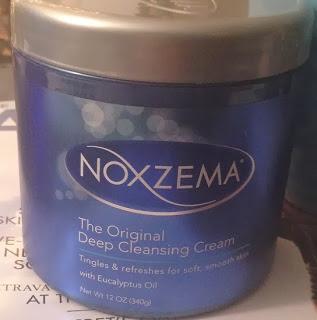 2.) Cetaphil trial kit. It was the last one and it was under $7 for the cleanser, lotion and day time moisturizer. So why not? Plus it helped snap my skin out of it's dry spell.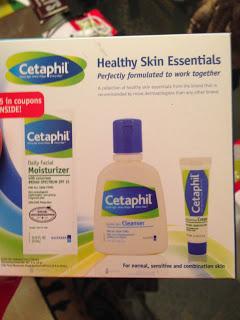 3.) Almay Wake Up Foundation and Concealer. Say hello to two of my new favorite products.  The foundation stays true to its name and makes me look much more alert.  It stays on very well and the coverage is nice.  The concealer is lightweight and does a good job at hiding dark circles.  The foundation was 50% off, putting it around 6 bucks.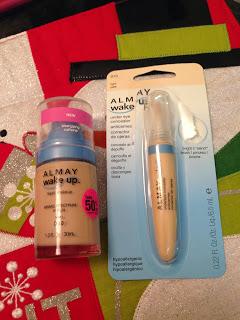 4.) Almay Smoky-i kit for brown eyes, even though mine are blue.  I loved the mix of shades in the palette. Their eyeshadows were on sale for $5.99 rather than $7.99.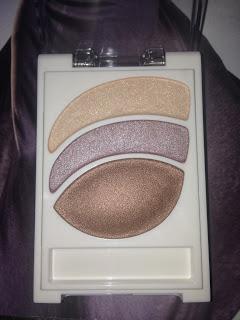 5.) Almay Intense i-color Shadow Stick for blue eyes. I am such a sap for copper shades. This was also $5.99.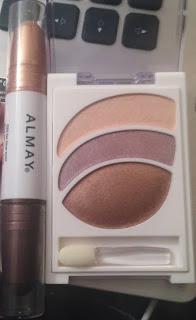 6.) Revlon Parfumerie Nail Enamel in Pink Pineapple and Wintermint. These polishes are just awesome. And the awesome-ness just gets better because they were buy one get one 50% off.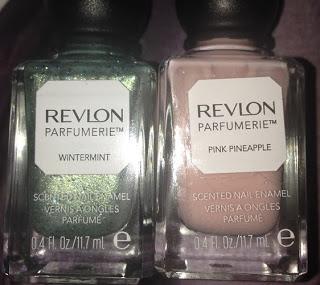 7.) Rimmel Scandal Eyes Kohl Kajal in Nude. I just needed a nude eyeliner for my waterline.
8.) Blistex Lip Vibrance is the perfect on the go balm because it is moisturizing and adds some color.



Haul #2
1.)  Wet n Wild Perfect Pair Eye Wand in Smoke/Lilac.  Sounds like a potentially cool product, and for around $2 at 50% off, why not? Not pictured because apparently it grew legs and wants to play hide and go seek. That is my story and I am sticking with it.
2.) Essence of Beauty Contour Wedges for 75% off. Because every beauty addict always needs more sponges.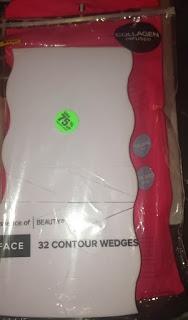 3.) Revlon Age Defying Concealer. This was also 75% off and it is product that I have been curious about.  So far I feel a little "meh" about it.
4.) Revlon Colostay Smoky Shadow Stick in Torch. I can totally see why this was on sale. It is a rather crappy product and one of the ends broke in half. Had I not gotten it for $2, it would be going back.



5.) Milani Lipstick in Uptown Mauve and Fruit Punch.  These are nice lipsticks and these colors are gorgeous.  I couldn't believe that both were 50% off.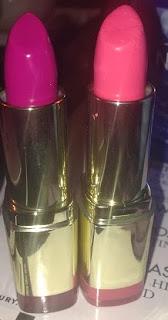 Haul #3
1.) Freeman Beauty Facial Polishing Mask and Cucumber Peel Off Mask, which were 2 for $7 and I am a mask junkie. So it seemed appropriate.  I have used the Facial Polishing mask and love it so far.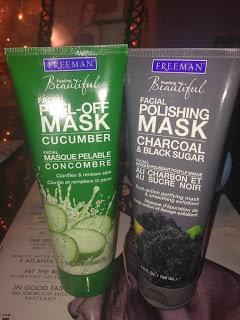 2.) Wet n Wild Color Icon Trios.  At 50% off, these cost next to nothing.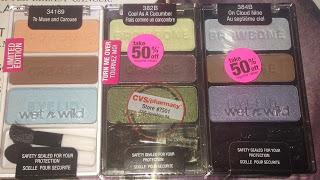 3.) Neutrogena Crease Proof Eyeshadow.  I've been stocking up on my collection of cream eyeshadows, so this seemed like a nice addition and like I said earlier, I am a sap for copper.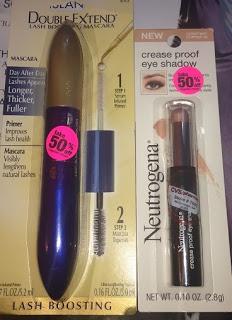 4.) Sally Hansen Gem Crush Nail Color and L'Oreal nail polish.  The Sally Hansen polish was 75% off and seemed like a festive color and the L'Oreal was 50% off.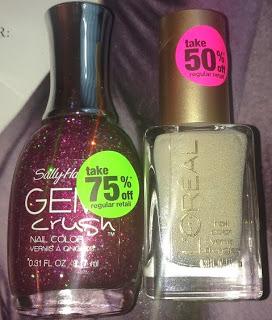 5.) L'Oreal Magic Smooth Souffle Blush in Celestial. 50% off and I can't wait to try since I have never used a whipped blush and the color looks lovely.
6.) Nature Made Fish Oil and Vitamin C.  These were buy one get one half off.  I really wish I would have waited to get these at Target because they have twin packs for less than $9.  I'm lazy, so I just didn't bother with returning the ones from CVS. Sad, I know.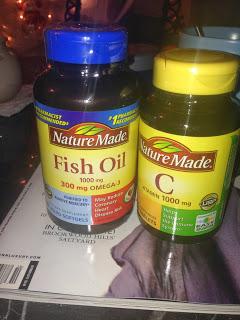 So there it is. As you can see, I have a lot of new stuff to try out.  If you haven't already, check out your local CVS to see if they have some of the same deals =)