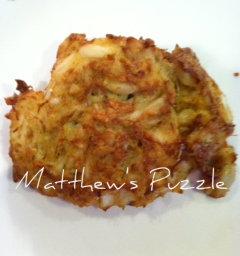 If you are from Maryland, and during Preakness week everyone is from Maryland, you love  great Maryland Crab Cakes. And if you are from Maryland you are pretty picky about your crab cakes. No filler, I use only lump crab meat. If filler is needed we use backfin crab meat.  No onions and bell peppers! That just isn't Maryland.  Your Maryland crab cakes better contain lump crab meat, some Old Bay, and very little else. Whenever we have out of town guests, like we did this week, we always treat them to some Maryland crab cakes. My brother-in-law even goes so far as to not eat Maryland Crab Cakes anywhere but my house. So here is my version of a proper Maryland crab cake. We broil ours, you could pan fry, both are acceptable in Maryland. But please, serve with cocktail sauce – horseradish and ketchup, OK!
Maryann's Gluten Free Maryland Crab Cakes
1 lb lump crab meat, cleaned
mayonnaise – I prefer Helmann's
1 egg
Gluten Free rice crispies – crushed OR instant Oatmeal
prepared mustard – I prefer French's
Worcestershire Sauce – I prefer Lea & Perrins All Natural  (No HFCS)
This is more of a method than a recipe. Dump crab meat into a large mixing bowl. Add several dollops of  mayonnaise and mix. Do not add too much mayonnaise, you want only enough to make it moist and hold it together. 1the egg and mix. Add approximately 1 teaspoon of prepared mustard and about 1 tablespoon of Worcestershire sauce. Mix. Add the rice crispies or oatmeal, approximately a 1/4 cup. The mixture should hold together but not be soggy. Add 1 tablespoon Old Bay Seasoning. Combine well. Form into 4 patties and place on cookie sheet. Broil for 10 minutes until golden brown. Carefully flip patties and cook an additional 10 minutes or until golden brown. Serve immediately with cocktail sauce.