Download Free Guide:10 Fast Ways to Build Inbound Links Using Social Media
After reading today's post below for inside tips on social media marketing, please share it on Twitter, Facebook or any favorite social media site. We appreciate your feedback. Thanks! 
Contributing Author: Jacob Puhl
Over the past couple of years or so, Google has put an increasing emphasis on local search and staying on top of your competition has never been more important.
Fortunately, there's much that can be done by the diligent local business entrepreneur to stay one step ahead.
Here are five of the most effective SEO strategies to secure that precious organic search traffic and keep it away from the competitors.
1. Improve your site speed and load time.
You could implement just about every SEO trick in the book, but if your website takes five minutes to load up, they would amount to very little.
Not only will you lose favor with the search engines, slow loading times can break the attention span of your potential customers and lose them before you've even had a chance to offer your product.
Steps to take include:
Use sites such as Gmetrix or Pingdom to gauge how slow or fast your loading times may be. For most websites, the ideal time is around three seconds or less.

Consult a web designer if your site uses a lot of flash animations as they will probably slow things down.

If your site loads slowly, consult a developer about streamlining and optimizing the code.

Make sure you're not using any images (usually jpeg or png files) with unnecessarily 

large file sizes.
2. Seed positive reviews and mentions.
Any company with a web presence should always be on the lookout for opportunities to seed positive reviews and mentions on industry-relevant websites.
Open up Google and experiment with different search terms that include an industry relevant phrase mixed in with words like "review".
Here are some examples of keywords we searched on Google and some of the results which followed: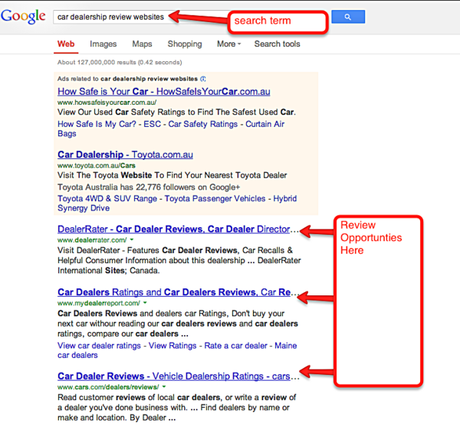 Seek out sites such as the plants positive reviews and mentions, always including a backlink to your website.
Some review sites deal in several industries which are then broken down into sections as seen on Judge Service or Demand Force.
Get creative with your keywords, make an extensive list of review sites like these and seed positive reviews in 2 to 3 per month.
3. Check how you're being represented on the web.
Yext is a great tool to run a check the information on your company around the web.
Too many small businesses leave things to chance, failing to consider the possibility that there could be some misinformation turning away potential clients.
The Powerlistings Network scan will check 50 of the world's leading search engines, mapping apps and review sites to make sure your information is up-to-date and relevant. You can start this process on the Powerlisting Network page.
4. Uncover your competitor's juiciest links.
A somewhat sneaky and underused tactic is "link mining" allows you to search through. This allows you to check your competitor's backlinks with a view to taking the best ones for yourself.
There are several sites that offer this capability. Here are three of the best resources to spy on your competitor:
https://ahrefs.com/index.php
Spend an afternoon using these websites to check the most established companies in your industry, make a list of all of all their best backlinks and secure some for your own website.
5. Start a blog.
Blogging has always been a key component for any good SEO campaign, now more than ever.
High-value content will naturally gather backlinks and have people coming back to your website for more.
Get creative with your content creation and consider covering:
Community events

Industry news or development

Industry insider tips, guides and "how to's"
If you're new to blogging, take an afternoon off to research tips on how to do it well from websites such as ProBlogger.
Pick subject matters that are keyword rich and add as much value for your readers as possible. You'll have a thriving marketing funnel in no time.
About the Contributing Author:

Jacob Puhl is Cofounder of Firegang Digital Marketing, a local SEO, web design and digital marketing agency for small businesses.
To contact Jacob, email jacobpuhl at firegang.com or follow him on twitter @jacobpuhl.