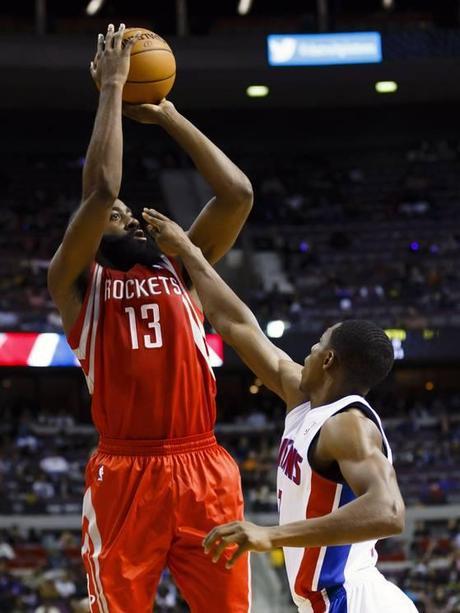 Photo: US Presswire/Rick Osentoski
- Adam Parker
It has become the norm in today's NBA. Another relatively big-named star player is leaving behind his old town for a new one.
That's what happened when the Oklahoma City Thunder shipped reigning Sixth Man of the Year James Harden to the Houston Rockets for Kevin Martin, rookie Jeremy Lamb, and two future 1st-round picks and a future 2nd-round pick over the weekend.
Why did the Thunder do this, you ask? Well, as it typically does in these cases, money was the straw that broke the camel's back and forced Thunder General Manager Sam Presti's hand.
Harden, who last season averaged career highs in points (16.8), rebounds (4.1) and assists (3.7), rejected the Thunder's offer of a four-year contract extension worth between $52-55 million.
Why would Harden turn down so much cash, especially when it meant that he would likely be in position to contend for a title every year with the team that drafted him? It's simple. Money.
The Thunder didn't make a "max" offer to Harden because they just didn't have the money available to do so and when it became clear that Harden wasn't going to accept anything less than a max contract, Presti and the Thunder had no choice but to send Harden packing for the best package they could get in return.
Upon arriving in Houston, Harden agreed to a five-year, $80 million max contract extension to become — as Rockets' General Manager Daryl Morey put it — a
"foundational player."
That's pretty high praise for a guy who has started only seven games over a three-year career.
I was one of those people that Harden made a mistake in turning down the Thunder's offer. Needless to say, I'm now grudgingly eating the humble pie.
But after the Rockets' season opening 105-96 win over the Detroit Pistons that saw Harden explode for 37 points, 6 rebounds, 4 steals and a career-high 12 assists; it became quite clear that Harden is indeed ready for a starting role and is worth every penny of that $80 million.
You can't blame the Thunder for making the move, though. They were caught between a rock and a hard place. It was either do what they did and trade Harden for the best available offer or risk losing him for nothing this coming off-season.
When it comes down to it, Presti and the Thunder did the best they could with the unenviable hand they were dealt.
As referenced earlier above, they got fantastic return for a player they could have potentially lost for nothing after this season. Kevin Martin is a proven scorer in this league and will also provide future cap flexibility with his expiring contract while the former UConn star Lamb and the draft picks are valuable for obvious reasons.
How will it affect the Thunder on the court? We'll have to wait and see as the season progresses, but I'm guessing it won't be much of an issue considering they still have some guys by the names of Kevin Durant and Russell Westbrook. Yeah, something tells me they'll be fine.
As for Harden and the Rockets? I could be wrong, but that $80 million could end up leading to playoff berths, and for a team that hasn't seen playoff action since the twilight of the Yao Ming era back in 2009, you can bet Houston will be ecstatic about that.
Be sure to follow Beard And Stache on Twitter 
@BeardAndStache
, and also Adam 
@Adam_Parker43
, Like our Facebook page 
HERE
!