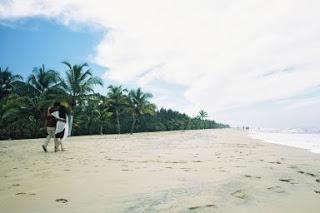 The land of beautiful beaches Kerala has many glittering jewels in its crown, each radiating
its own special spark and charm. The beaches of Kerala are beyond the power of human expression and are something that can only be felt and experienced by your senses. It magnifies the receiving capacity of your senses and makes you forget all that bothers you, rejuvenating your soul and senses in every possible way. One such beach that takes you to a world of magical beauty and serenity is the Marari Beach located in the Alappuzha district of Kerala. 
This small, sleepy beach is the perfect place to have some relaxing time and forget all your tensions and worries and lose yourself in the beauty of nature. Untouched and unspoilt by the forces of modernisation, this beach still retains its natural charm and reminds us, how simple yet fulfilling nature can be. The memories of Marari Beach tours will be something to cherish your whole life.
Marari Beach is one of those few places on earth where life goes without much complication, in a simple flow that will make you feel much relaxed and stress free. It's a place where you can sit back and see time pass in the most natural way, without any commotion. 
Whether you want to have some quite time for yourself or have fun with people around, the choice is yours. You get to spend your holiday the way you want to and not how everyone else does. You are the king in your own small paradise, making the most out of your holiday, collecting memories that will go a long way to make your life fulfilling. 
The ecology that surrounds the beach, the friendly and hospitable people that inhabit it and the rich culture that enlivens it makes this beach one of the best places to spend your holiday. The small village that lies near the beach reminds you of how beautiful life can be in its simplest form. 
You will be amazed to see how people live here, free from the bondages of modernity and thus having complete control of their life. They don't need any fancy things to enjoy their life to the fullest. They are happy with what little they have and this is the most important lesson you can learn from here.
Besides the beauty and simplicity another major attraction of Marari Beach tour is the fantastic food. The Marari cuisine is a complete delight for the foodie. 
The fruits from the ocean, the fresh fish, shellfish and other sea food cooked in an array of local spices take your taste buds to heaven. You would just want to forget everything and immerse yourself in the delight of the cuisine.
 For accommodation you have some of the most amazing hotels and resorts. Decorated in a way that oozes the local traditional culture and architecture, the settings are like that of a fairy tale castle, epitomizing the physical beauty and magic. You will feel nothing less than royals staying here.