Maple Glazed Roast Turkey
Easter is just another excusable occasion where all family member gather together to celebrate. One of the traditional method to get things going is by having maple glazed roast turkey. Turkey can be cooked in a variety of ways but maple glazed roast turkey recipe is quite traditional and healthy, I am not sure when this custom started but I am happy it did. Though turkey is quite a dry dish but if cooked properly it tastes divine and this maple glazed roast turkey recipe is the latter one. This recipe can be enjoyed any-time and in my opinion that would be in the afternoon. So in other words this recipe can enjoyed as you healthy lunch if you don`t other wise have any other healthy lunch ideas.  Remember Easter is not Easter when there is no turkey on the table.
Ingredients
1 6 to 6 1/2 lb turkey breast
1 1/2 tsp dried sage
1 1/2 tsp dried thyme
Freshly ground black pepper
2 TB olive oil
1 1/4 c diced celery — with leaves
1 c chopped onion
1/2 c chopped fresh parsley
2 TB water, or as needed
2 med Granny Smith apples, cored and diced (about 2 1/2 c)
2 bags (8 ounces each) cornbread stuffing mix
1 cn (14 1/2 ounces) chicken broth
Glaze:
1/3 c maple syrup
3 TB coarse-grained Dijon-style mustard
Remove skin and excess fat from turkey breast.
Rinse turkey.
Blot dry with paper towels.
In a cup mix sage, thyme, and pepper.
Rub 2 teaspoons over turkey breast.
Instructions
Preheat oven to 375 degrees F.
In large non-stick skillet heat oil over medium heat.
Add celery, onion, parsley, and remaining herb mixture.
Cook, stirring frequently, until vegetables are slightly softened, 3 to 4 minutes.
If skillet gets dry, add a tablespoon or so of water.
Stir in apples and another tablespoon water.
Cook, stirring, 2 to 3 minutes more.
Spoon into large bowl.
Add stuffing mix.
In measuring cup add enough water to broth to equal 2 1/4 cups.
Add to stuffing.
Toss gently to mix.
Spoon into roasting pan.
If desired, place roasting rack in pan over stuffing.
Place turkey breast on rack or directly on stuffing.
Cover pan completely with foil.
Roast 1 1/2 hours.
In medium bowl mix glaze ingredients.
Remove foil from bird.
Spoon about one-third of glaze over breast.
Roast, uncovered, 30 to 40 minutes longer, basting two or three times with remaining glaze, or until instant-read meat thermometer inserted in thickest part of breast registers 165 degrees.
Transfer turkey to platter and stuffing to covered serving dish.
Let turkey stand 20 minutes.
Carve into thin slices.
Enjoy!
Yield: 12 servings
Liked this recipe than you`ll enjoy making these recipes as well.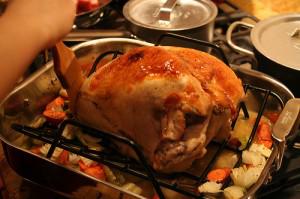 Photo by whitneyinchicago

Rating: 0.0/
5
(0 votes cast)