Food Fridays
While 
Jack's Southern Comfort Food
 opened only last Friday, as soon as you walk in the doors at 1905 Greenville Avenue and take a seat, you feel like you are already home...at least a part of  longtime Dallas/Fort Worth restaurateur Scott Jones'. His latest comfort food eatery pays homage to this culinarian's humble roots - Louisiana Cajun creole from his Mother's side with the big bold downhome Texas cooking of his dad (for which the place is named.)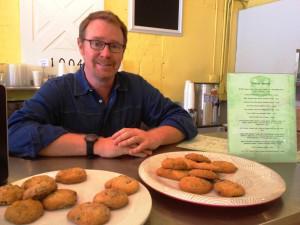 Another perfect example of his southern hospitality can be tasted right at the counter with chocolate chip cookies, just like you would at home, giving you that I'm-home-kind-of-feeling.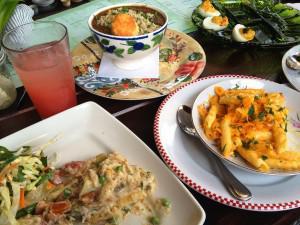 Upside down pot pie, mac and cheese, real-deal gumbo, watermelon lemonade and deviled eggs served in vintage deviled-egg holders were just part of the warm and fuzzy afternoon spent at Jack's. I love that the dishes were all served with mismatched plates all collected from sales and old cabinets to put together the spots plateware.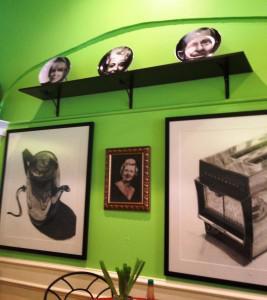 A perfect mix of bright colors among photos of retro toasters, deviled eggs and other fun finds (like Ross Perot's smug mug) is a perfect example of Jones' concept for the place.  Just make sure you show respect to his mom (she's the beautiful woman in the center.)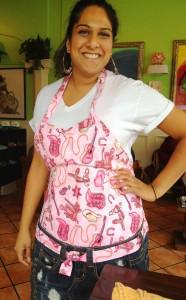 I'm obsessed with aprons, so I love this one that seemed so perfect for the Jack's staff. The hand-made aprons are made from old jean shorts, skirts and more! Best of all, they offer the"It's All Relative" aprons and tea towels for purchase, with a portion of the proceeds benefiting the Bridge Breast Network, a non-profit that saves lives by linking low income, uninsured individuals to diagnostic and treatment services for breast cancer.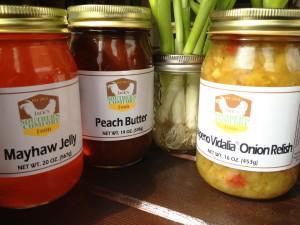 Chow-chow, onion relish and something I've never heard of called Mayhaw jelly makes eating at Jack's like a Sunday supper at my Grandma's. The centerpieces used on the tables also include fresh cut green onions in small mason jars (giving the feeling that they just came from the garden.)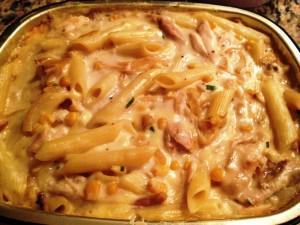 The best part of Jack's isn't even at the restaurant - it's at home. There are several options for casseroles, ready-made salads and of course, desserts and sticky biscuits that you can take home. And for me, not only is that option awesome, but the fact they'll serve my kids complimentary after-school snacks like pimento cheese roll-ups and fruit salad (to die for) while I pick out our take-home dinner for the night, makes it a new S.O.S (save our supper) kind-of-place. For our custom casserole choice, we mixed a little bit of everything that our family liked (corn, chicken, pasta and more) into a dish and then popped it in the oven for 30 minutes to create Tuesday night's dinner. (If I hadn't brought in a sack,  no one would have know the difference...we'll that and that it tasted good.)
While I can tell you the biscuits are reason enough to come on in for a spell, I know I'll be back come the holidays with a special catering menu to make you look like a rockstar. Deep fried turkey, honey backed ham, sweet potato casserole, green bean casserole and of course, dessert and rolls will be packaged up to take straight from their kitchen to your dining room table. Just make sure you throw away the sacks before everyone comes in, so when you tell them it's homemade, your family will believe you.
Jack's Southern Comfort Food
1905 Greenville Avenue
BYOB
Monday through Friday, 9 a.m. to 8 p.m.; Saturday from 7 a.m. to 8 p.m.; and Sunday from 7 a.m. to 4 p.m.
www.jackssoutherncomfortfood.com
214.821.0900
Facebook  | Twitter
This story also appeared on DallasFoodNerd.com on October 9, 2012.
DISCLAIMER:
I received one or more of the mentioned products for the sole purpose of this review. No other compensating was given and all opinions expressed are 100 percent my own. (Accordance with FTC's 16 CFR Part 255, "Guides Concerning the Use of Endorsements and Testimonials in Advertising.")