For several years our office tradition was we had a $10 limit and all the items had to be homemade. So I spent several years making things like truffles, pasta and alcoholic beverages like Gluhwein and Cranberry-Orange Infused Vodka. So today I'm sharing the recipe for one of the gifts I've actually been told was pretty good and makes great cosmos!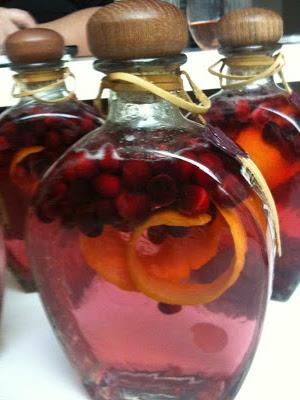 Cranberry–Orange Infused Vodka
1 cup cranberries
1/4 cup sugar
2 tablespoons water
1 piece fresh orange peel
3 cups vodka
Directions
In a saucepan, heat cranberries, sugar, and water until the sugar dissolves, the liquid begins to turn a light-pink color, and the cranberries just begin to pop. Pour it into a large glass jar; stir in peel and vodka. Cover, and let stand at room temperature at least 3 days or up to one month. Strain before serving.
To give, I used pretty leftover tequila bottles, soaked off the labels and then attached a pretty tag.