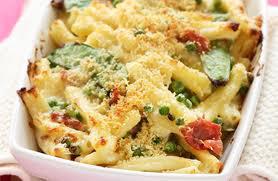 TIME: 25 MIN.
DIFFICULTY ': **
INGREDIENTS:
160 gr. Philadelphia cream cheese type
320 gr. type of pasta macaroni
150 gr. shelled peas
200 gr. of jackdaws
100 gr. Parma ham
2 eggs
30 gr. butter
Salt
Pepper
PREPARATION:
Peel and wash the snow peas, boil for 5 minutes with the peas in boiling salted water then drain.
Cut the ham into small pieces and brown in a pan with the butter, add the peas and sugar snap peas and continue cooking over low heat for 3 minutes.
Beat eggs in a bowl, combine the cheese, season with salt and pepper and stir the mixture well.
Break the ziti and boil them in plenty of boiling salted water, drain and season immediately with cream cheese and eggs and vegetables, then transferred to the preparation in a pan, and place in oven at 200 ° C for about 25 minutes.
Remove from the oven and serve.