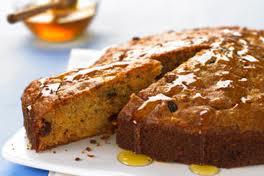 TIME: 25 MIN.
DIFFICULTY ': **
INGREDIENTS:
3 carrots
125 gr. flour
125 gr. wholemeal
1 teaspoon baking powder
1 teaspoon cinnamon
25 gr. sugar cane
85 gr. honey
3 eggs
1 teaspoon vanilla extract
125 ml. sunflower oil
85 gr. raisins
2-3 tablespoons milk
PREPARATION:
Peel and grate the carrots.
Mix in a bowl the flour, baking powder, cinnamon and sugar.
Stir with a whisk in another bowl the eggs, honey, vanilla and oil.
United made ​​it to the flour and mix.
Stir in the grated carrots and then the raisins and milk, mix again until dough is smooth and homogeneous.
Grease a round baking tin with oil and pour the mixture leveling them well with a spatula.
Bake in a preheated oven at 180 degrees for 45 minutes (check the baking of the cake with a toothpick and if you put in the cake should come out dry, ready).
Remove from the oven, let cool, misshapen cake on a serving platter and pour on the melted surface of the sweet honey.
Serve.