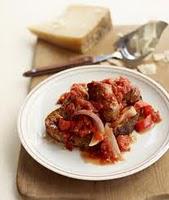 TIME: 20 MIN.
DIFFICULTY ': **
INGREDIENTS:
100 gr. diced tomatoes, drained
4 cloves garlic, minced
1 large red onion, sliced
1 red pepper, diced
1 cup dry white wine
200 gr. sausage
TO COMPLETE:
4 slices of toast
grated cheese
pepper
PREPARATION:
Put in a casserole the tomatoes, garlic, onion, pepper and wine.
Let cook for a few minutes over low heat.
Add the sausage and cook by covering the pan with a lid, over low heat for 30 minutes.
After this time, served on the plate and sprinkle with pepper and grated cheese, accompanied by slices of toast.