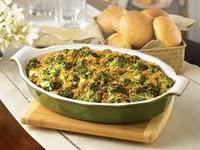 TIME: 25 MIN.
DIFFICULTY ': **
INGREDIENTS:
200 gr. broccoli
2 slices of thick cut bacon
00 flour
5 eggs
a pack of cream
1 cup whole milk
2-3 teaspoons black pepper
Salt q.b.
2 teaspoons mustard
grated cheese
PREPARATION:
Wash and dry the broccoli.
Boil 2 lt. of water in a large pot and letting them boil the broccoli dip.
Drain and keep aside.
In a skillet brown the bacon.
Place it on a plate with paper assorbnte to remove excess fat.
In a bowl beat the eggs, add flour, boiled broccoli, bacon browned, the cream, milk, pepper, mustard and a handful of cheese, mix well to obtain a homogeneous batter.
Preheat oven 180 degrees.
Pour the batter into a baking dish and bake in oven for 20 minutes.
As soon as the omelet is golden sfornatela and serve piping hot.