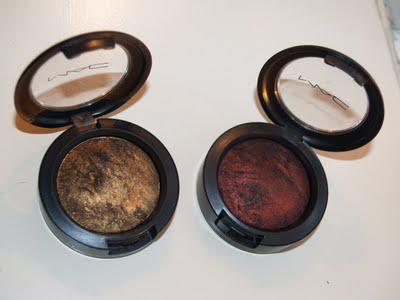 L-R: Golden Gaze and Smoked Ruby
Not too long ago, MAC came out with a new line of products inspired by (and containing) Brazil's semi-precious gems. Here's what the MAC website says:
"Inspired by the naturally beautiful form & mystery of ethically mined minerals from Brazil, these Mineralize formulas get richer with the infusion of four finely milled gems. Like any limited edition, these elements start off rare & tend to get rarer!"


Sounds decadent, huh? Their how-to videos and models show just how beautiful these products can be - unfortunately I'm a long way from being a Brazilian goddess, so a lot of the more chunky/sparkly/shimmery products aren't the best for me. But these two shadows I absolutely could not resist. Not only are the gold and ruby tones intriguing, but the mottled black means that you can intensify or darken the color depending on how much black you pick up on your brush.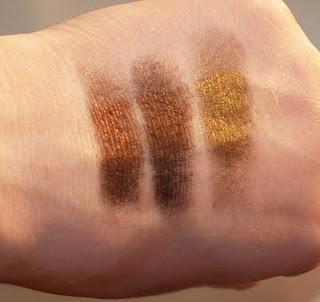 L-R: Smoked Ruby (red section), Smoked Ruby (blacker section), Golden Gaze


Above you can see a subtle difference between Smoked Ruby taken from a section of the pan that had mostly red, versus the slightly darker shade taken from an area with more black in it. I purposely chose a Golden Gaze that had almost no black in it, however, so I can't do the same with this one!
I'm really glad I decided to get these two shades (though in all honesty, I don't regret passing on the others). I have nothing like them in my collection and they're absolutely gorgeous for a dramatic look or to create a gorgeous smoky eye.


Ratings:




Packaging:

 5/5


Product quality:

 5/5


Worth the price?

 Yes - you get so much product that it will last you forever.


Would I purchase again?

 Yes - but unfortunately these are another of MAC's wonderful limited edition products.

Cruelty-Free? 

Yes - appears on PETA's Cruelty-Free list.Where to find it: MAC in store and online.