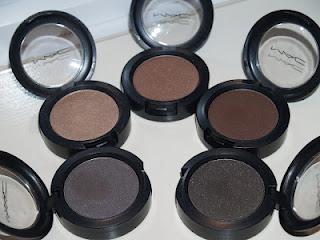 Clockwise from Bottom Left: Keep Your Cool, Sweet Satisfaction, 
Lie Low, Make Your Mark, Legendary Black
 Anyone who knows anything about me will know that I LOVE eyeshadow. I mean, I love makeup in general, but eyeshadow is my particular weakness. I'm always looking for unique shades, textures and finishes. I like blending, pairing and experimenting with it as eyeliner.
So I've been eyeing (excuse the pun) these shadows for quite some time, and have finally collected a few to share with you guys!
I got these five: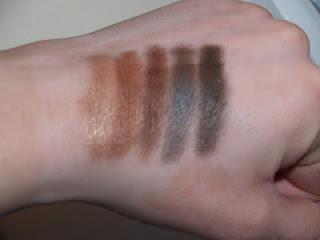 L-R: Sweet Satisfaction, Lie Low, Make Your Mark, 
Keep Your Cool, Legendary Black
Sweet Satisfaction: This is a great neutral daytime shade, one that can be used to blend out a darker shade, on the lid with a darker crease colour, or as an all-over base. 
Lie Low: Lie Low is a fabulous warm-toned neutral brown that I think particularly suits us pale ladies. I like it over the entire lid - either blended out with Wedge in the crease for a daytime look or paired with a darker shade like Make Your Mark in the crease for more drama.
Make Your Mark: It's a darker shade, which reminds me a little of Carbonized from the MAC Me Over collection. Aside from being a great crease shade, it can be used to line the upper and lower lashline with a lighter lid color for daytime, and can even be smoked out around the lashes for an evening look. Beautiful!
Keep Your Cool: Keep Your Cool reminds me of Smut - it has a similar blending of various shades, making it a complex, warm-toned, mauved grey/brown. Like Make Your Mark, this can either be used to play up the eyes or for understated lining during the daytime. 
Legendary Black: This isn't really black at all. At least, not in my opinion. It's almost more of a blackened bronze color. This one is very difficult to describe - but I think it's worth getting simply because I haven't seen another shadow like it before. I like this one over a dark liquid liner or to smoke out at night.
As the name implies, these shadows were created for the Pro line and are intended to last alllll damn day (and night). As someone who struggles with creasing, I will try anything that might save me from becoming a hot mess by the end of the day! So far these have been great. 
Though these shadows are a bit pricey, at $24.00 CAD per shadow, they're also HUGE. If you remember the Mega Metal shadow collection MAC came out with, you can use that as a comparison point - these are exactly the same size.
For those of you who prefer numbers, these contain 3.4 g or 0.11 US oz. Compare this to their regular shadow that cost $18.00 CAD (or $14.00 CAD for a refill pan) and contain 1.5 g or 0.05 US oz. This means they have more than double the product for an extra $6-10. A deal by anyone's reckoning!
These are Pro shadows, but they're available at some MAC regular storefronts as well as their online site. I highly recommend checking them out!
Ratings:




Packaging:

4/5
Product quality:

5/5


Worth the price?

Definitely!


Would I purchase again?

Yes.
Cruelty-Free? 
Yes - appears on PETA's Cruelty-Free list.
Where to find it: MAC in store and online.