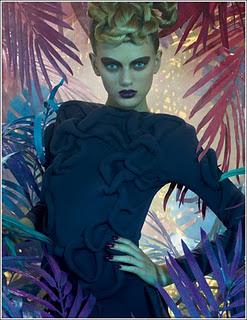 MAC's second new collection of awesomeness has hit the stores! Of course, I couldn't resist. Here's what I bought:
Nubile Paint Pot - Neutral peach shade. Reminds me of Painterly, but Painterly is a bit more pink than peach. I absolutely love this under a neutral shimmer with a heavy black line - and, like any paint pot, it lasts all day long.
Hyperviolet Paint Pot - This is quite a unique paint pot shade. It's matte purple, and very, very dark. If you pick this one up (and I highly recommend that you do), spend some time playing with it. Here's what I got when I did: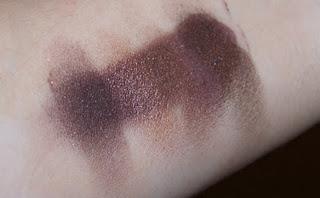 L-R: Sketch, Star Violet, Twinks, 100 Strokes
  You can see how the colours really pop (particularly the purple tones in Star Violet). Very fun to play with!
Idyllic Paint Pot - This reminds me a little of Artifact Paint Pot, but with more of a rusty red tone than purpled burgundy.
Rare Exotic Mattene - True fuschia - this is not for the faint at heart! I love this colour, but you really get noticed in it!
Deliciously Forbidden Mattene - This is a muted dusty dark pink that can work for daytime or can be applied with a heavier hand in the evening. Note: Though Mattenes are supposed to be less drying than regular matte lipsticks, they are still quite drying. I found that my lips got pretty flaky and application became uneven after a few re-applications. If you have trouble with dry lips, you might want to stick with more of a creme finish.
There were so many beautiful things, and I had trouble keeping to just these things. Here's what the whole collection looks like: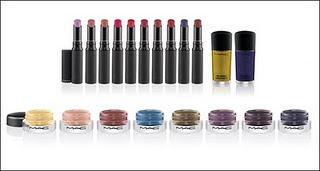 Ratings:




Packaging:

5/5 
Product quality:

 5/5


Worth the price?

Yep.


Would I purchase again?

I bought a backup of Nubile and I'm certain I'd eventually collect all of the Paint Pots were they permanent!
Cruelty-Free? 
Yes - appears on PETA's Cruelty-Free list.
Where to find it: MAC in store and online.