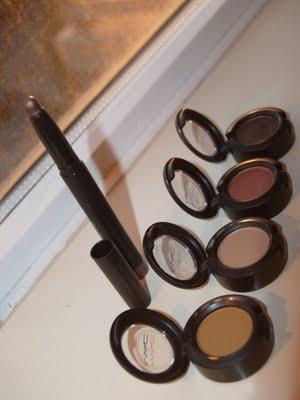 Shadestick: Street Cool
Shadows (bottom to top):
Outr
é
, Moleskin, Mythical, Carbonized 
Were you as excited as I was to check out this collection? Thought so. Being a major eyeshadow-aholic, I was most excited to check out their new LE shades. In the end I caved and got all but one of them (Creamy Bisque - it is a light highlighter shade and just too similar to the hundreds I already have), as well as a quad with some gorgeous colours in it. I decided to try out the 211 brush as well. Let's start there.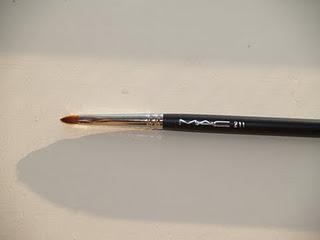 211 Eyeliner Brush
It's an eyeliner brush, but has a unique flat but pointed shape that allows it to be used on the edge for a fine, precise line, or flat for a thicker application. I'm all over that idea - I love brushes and tools that are multi-functional! It's a great quality brush (as MAC brushes are) and so far I've been really impressed with how easy it is to use. I'd particularly recommend this for those new to gel liner application, as it's easier to use than a traditional thin applicator brush.
Now, on to the shadows! The quad I bought is called Lady Grey. There is a second one in the collection called Evil Eye, that includes dark green, deep purple, cement gray and berry shades - but I decided that since these aren't shades I can see myself using often, and I have similar shades in my collection already, it wasn't worth getting.
Lady Grey, on the other hand, ended up being too gorgeous to pass up: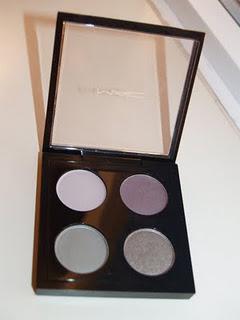 Clockwise from Top Left: All Races, Tendersmoke, Lady Grey, Hazy Day
The shades included are:
All Races (M): This is a pale, pale mauve color that's quite a cool neutral. I've had this in other quads in the past and am not really that fond of it. I'll give it another go, but last time I found it a chalky and not particularly useful.
Tendersmoke (F): Mid-tone lilac. Muted enough that it can be worn to work in an understated look. Great for hazel or green eyes, and would be fantastic as the lid color in a purple smoky eye.
Lady Grey (S): This shade is like a greyed-out moss green. Quite muted and not too green, but still not quite gray either. Because it's right in between the two shades, it can be paired with either greens or greys to bring out either shade and add a hint of something a little different. I like it, but it's not my favorite.
Hazy Day (VP): This color is nearly impossible to describe. It's in the taupe-grey range, but has a hint of cool bronze to it as well. Totally unique and totally beautiful. This shadow was the whole reason why I couldn't resist this quad.
Single Shadows:
Outré (M) - This is a unique shade that I've heard is similar to Ochre, a shadow that MAC used to make, but has since been discontinued. It really is an ochre/mustard brown colour, and according to the MUA it is universally flattering. She suggested using it in the crease and running it along the lower lashline to really make brown and green eyes pop. 
Moleskin (M) - Neutral cool-toned beige - a bit like Wedge but cooler and easier to load on. I found that I actually ended up with too much product on the brush to really use as a crease blending colour, so I'm sticking to my trusty Wedge for that and using this on the lid for a daytime neutral eye. 
Mythical (VP) - Coppery rose shade - light enough to wear in the daytime, but bright enough to be dramatized for a beautiful evening out!
Carbonized (VP) - This is a dark, woody brown color with warm shimmer. Upon getting it home, I realized that it's nearly identical to Centre Stage, one of the Mega Metal Shadows from MAC's Peacocky collection earlier this year. Oh well, still gorgeous.
Satin Taupe (F) - You'll notice that in the pictures this is a pro pan. That's because this is part of the permanent collection - thank goodness! It's a universally flattering, universally loved shade that can be used with everything from mauves to purples to browns to create understated or intense looks, and is a staple of pretty much every self-respecting MAC lover's collection!
One fantastic thing about the single shadows in this collection is that they're designed to go with one another. This means you can pair any single shadow with any other single shadow to create some version of a well-matched, gorgeous look. So feel free to experiment!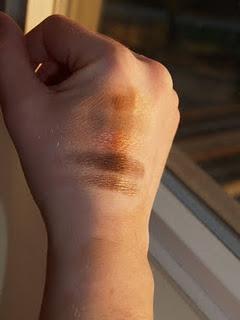 T-B:
Outr
é
, Moleskin, Mythical, Carbonized, Satin Taupe (better swatches coming soon, sorry I was losing daylight!)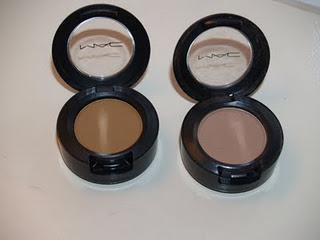 L-R: Outr
é
, Moleskin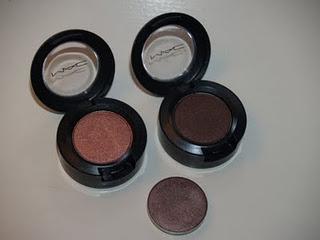 Clockwise from top left: Mythical, Carbonized, Satin Taupe
Finally I got just one lonely Shadestick in Street Cool (you can see this in the very first photo behind the row of eyeshadows). It's a nice mauvey taupe color that is great for the daytime and as a base for similar colours (like Satin Taupe). Photos and Swatches of this one coming soon.
As you can tell, I was very pleased with this collection. Lots of wearable colours, a great brush and some re-promotes of great items like Satin Taupe eyeshadow (the very first MAC eyeshadow I ever purchased!) and Rebel lipstick (my all time favorite lipstick). Because these are in the permanent line I'd recommend scooping up any of the limited edition ones you want quickly - and definitely check out the 211 brush, I highly recommend it!
Ratings:




Packaging:

 4/5 (as always - point off for not being easily de- and re-pottable!)


Product quality:

 5/5


Worth the price?

 Definitely!


Would I purchase again?

Most certainly - I really wish they'd make all of these permanent - especially the 211!
Cruelty-Free? 
Yes - appears on PETA's Cruelty-Free list.
Where to find it: MAC in store and online.