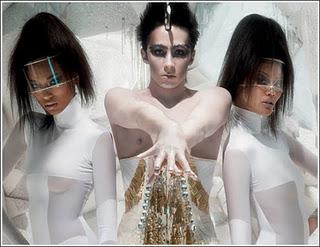 via Temptalia's review


I have to be honest: I haven't bought much of MAC's holiday collection, and I don't plan to. Don't get me wrong, there are some beautiful products to choose from, but they're either too pale, too sparkly, or they're really similar to products I already have. 
That said, I did treat myself - just a little bit ;). As you know, I love MAC's paint pots. So I gave in and bought the one in the middle... and the one at the top: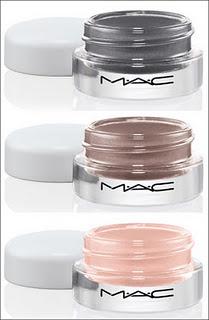 For Effect, Morning Frost and Let's Skate! Via Temptalia.


The one at the top is called For Effect, and it's a dark, gunmetal gray with shimmer. Smooth, creamy... gorgeous. I do find it to be more sparkly than metallic. The middle one is Morning Frost and is a taupey shimmer color that I absolutely love. It's a pale enough color to wear as a neutral shade, but if you layer it to build up the shimmer, add a dramatic liner, and pair it with a hollywood glam lip (if you want to stick with this collection, try Such Flare for a traditional red or What a Joy! if you want to vamp it up a bit), it will definitely live up to holiday parties! It's creamy and easy to work with, which is a good sign that it won't dry out too quickly in the pot (though, of course, make sure to close your lid tight after you use it!).This one doesn't have chunky sparkles like For Effect does, it ends up with more of a wet metallic finish.
For those of you who like sparkles, check out Let's Skate!, which is nearly transparent in terms of background colour, but is a mess of gold and pink duochrome sparkles. If you love frosted glitter looks, this would be a great paint pot for sparkly eye looks, but I could even imagine it working as a light dusting on cheeks - or even your collar bone - for holiday parties! (Just don't put it EVERYWHERE at once, or you will blind anyone who looks at you!)
The other thing I got was an eyeliner called Seasonally Spicy, which is a Technakohl liner. It's a warm, rich brown color that I love. Originally I intended to just get the paint pots, but I was convinced to give it a try after watching Moodeve's YouTube video:
I absolutely love the simplicity of this look, and I wanted to give it a try. Works like a charm, and looks particularly beautiful if you blend it out with a cool brown shadow.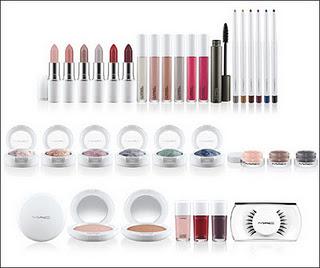 via Temptalia


If you're more into the pale and sparkly than I am and want to check out the rest of the collection, I'd recommend heading over to Temptalia's review - she runs through all the products for you. Even better, check out her YouTube video full of helpful observations and swatches!


Ratings:




Packaging:

Varies.

Product quality:

For the products I tried, 5/5


Worth the price?

Yep.


Would I purchase again?

Limited Edition! :(


Cruelty-Free? 

Yes - appears on PETA's Cruelty-Free list.Where to find it: MAC in store and online.