Luminess Air was kind enough to send me two of their products to try out, and of course I was excited. I have never tried any form of airbrush makeup, but I have always been curious about it. This came at a perfect time because I was considering buying the Sephora Collection version. But I am glad I did not.  They also gave me a 15% off coupon code for you guys, which is 
940587889
if you are interested in trying them out. You can check out the Luminess Air AirSupremacy line here.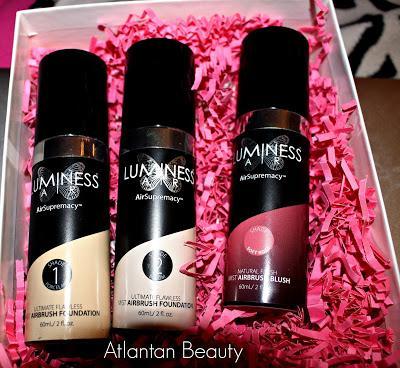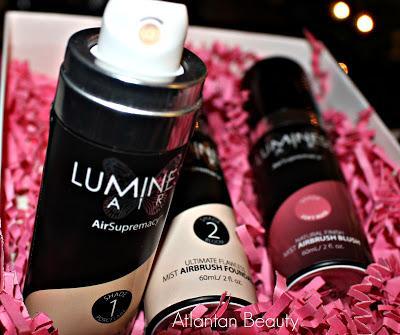 They sent me two shades of the foundation, which are shades 1 and 2. Surprisingly, both of them work equally well. Shade 1 has more yellow in it, and it gives my skin just a bit more color, but it still blends well with my skin tone. Shade 2 is a perfect match for me because it is more cool toned.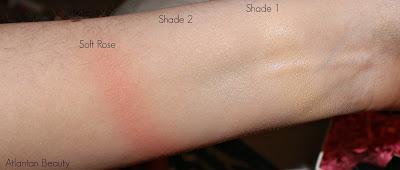 Here is out the describe the AirSupremacy Line:
"Our water-based formulas use ultra-low pressure technology to provide the lightest delivery of coverage. As you push down on the nozzle, mineral-based pigments encapsulated in water are propelled into a fine mist which naturally feathers out upon contact with skin. This results in a fine layer of coverage which uses 10x less makeup than traditional water-based formulas."
It 

almost sounds too good to be true, and I'll admit that I had my doubts. But after using it for almost two weeks, I am a believer. It is amazing how this 

stuff

 works. I really don't see it on my skin when spraying, yet it makes my skin look a lot better. It feels like water and you don't even know that you are wearing foundation. It provides light to medium coverage. I haven't been able to get it to full 

coverage, but it still does a good job at helping cover any redness or blemishes. It doesn't settle into pores, accentuate dry spots, and it isn't blotchy. It doesn't even require using a brush, which makes it fantastic for days I don't have a lot of time to get ready. The application took me a few tries to get used to, but now it is easy. There are two ways you can apply it. You can apply it directly to a brush or beauty blender. I did this for the first couple of days and it worked well. The second method is to just mist it directly onto your skin. You concentrate first on your problem areas and go from there. You don't hold down the nozzle for a continuous mist, but spritz it as you would a makeup setting spray or perfume bottle. I usually go back in and blend it out with a brush just out of habit. But you don't even have to do that. Somehow, it just blends right in all by itself, I do like to set it with powder, though. Without it, I notice that it gets a little oily by the end of the day. I have noticed that it has more of a dewy finish. All in all, I am very pleased with this foundation and I like it a lot.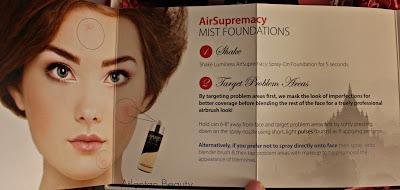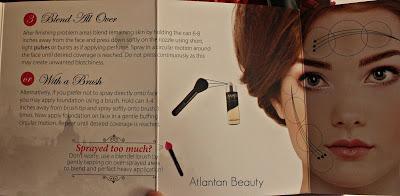 It is crucial to shake the bottle before applying. Otherwise, the product will not pray properly.
I have included a before and after picture. I applied shade 1 directly to my face, concentrating more on my problem areas. I have a zit between my eyebrows (that popped up over night) and some redness on my chin and around my nose. Also, I wasn't able to take the before and after pictures at the same time. The before pictures were done yesterday and the after pictures were done today. My camera died and I had to run a last minute errand. But the effect is still the same.
I did include a picture from a post I did a few days ago where the lighting is the same. I have to rely a lot on natural lighting.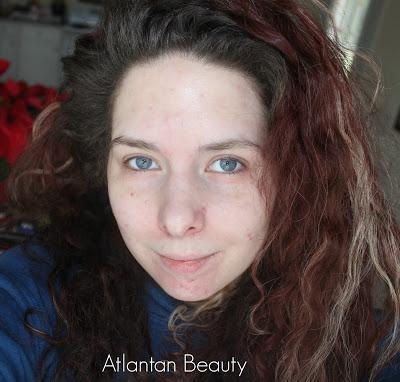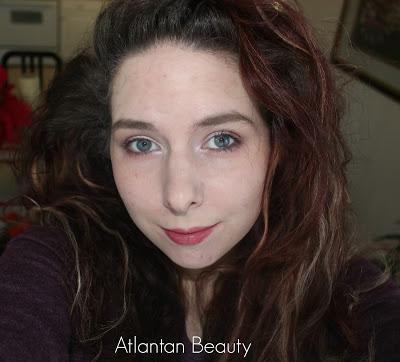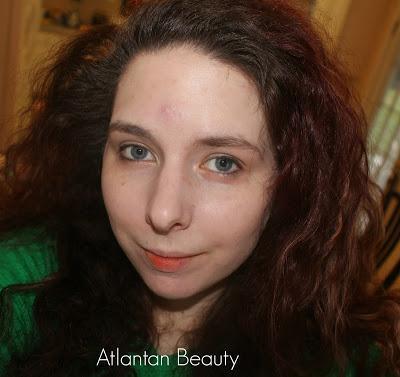 Now for the blush, which I might like even better than the foundation. I love it because the color can be built up. I tend to prefer sheer blush, and I can achieve that easily. Or if I am feeling more bold, I can do that, too. It works just like the foundation. You can apply it directly to your face, or use a brush. I prefer to use a brush because it gives me more control, but you might like applying it directly to your cheeks. Their blush shades are designed to coordinate with whatever shade of foundation you are. So the shade Soft Rose is the perfect shade of pink for my fair skin. Each shade has a pink undertone that makes it flattering for all complexions. They can be worn alone or layered.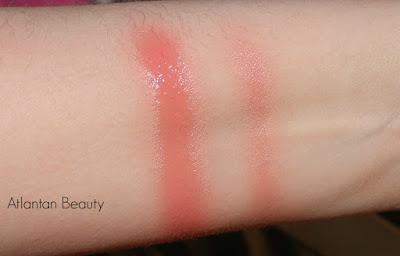 The left swatch is Soft Rose lightly sprayed and it is built up on the left.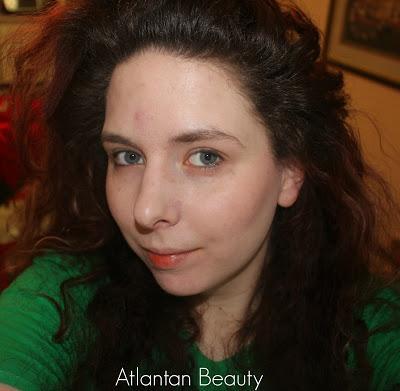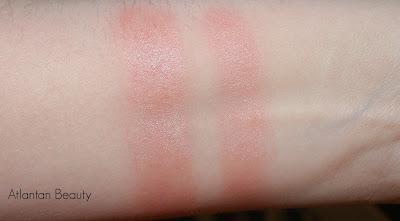 Blended and dried.
The only thing I don't like about either product is the smell. It is an intense, chemical like smell, but it goes away quickly. Other than that, I have no complaints. If you are interested in trying it for yourself, don't forget to use 
40587889
to get 15% off.  You can see everything the AirSupremacy line has to offer here.
The foundation is $29 for 2 oz and the blush is also $29 for 2 oz.
I wasn't paid to do this review and all opinions are my own. I wasn't sure about these products at first, but after giving them some time, I am a fan. They have another product called Hide Out, which I am curious about trying. I am also interested in the primer and setting spray.