My Trainer:
Tara and I met on my first day back from holidays - a Friday of all days - at 6:45am. Anyone in the fitness industry understands that early morning workouts are part of the deal, but that still doesn't mean it doesn't suck.

 

She admitted that she thought I'd say no, but we hadn't seen each other in a while and she needed to get a good workout!

 

We skipped the weigh-in/calipers (her idea that I somehow went with) and got down to business. She did her strength endurance work very well (kept up with her 2% rule of progress) and was off to Guelph to save the day and run her Club Opening Team - something she does quite well as I witnessed it first hand in Dec/Jan.
Now, I promised Tara I would blog about my trip to Ottawa and had all the best intentions in the world. I pictured myself setting time aside, sitting in my fancy hotel desk and doing it, but none of that happened. The Ottawa Personal Training Region, in GoodLife Fitness, has a reputation of being one of (if not) the very best in the country - and anyone reading this needs to understand that GoodLife's top of the food chain is the very best in world. The gym i visited was Ottawa Queen Street.

 

The reason I went all the way to Ottawa, to put it plainly, is they are best. They get the most people involved in Personal Training in the country, therefore getting the most people to make positive and healthy lifestyle changes through a prescribed plan with professional help and guidance very step of the way.

 

They do it at a level I hadn't seen first hand, so I needed to see it.

 

I spent 2 full days there, met almost all of the 23 Trainers, got to talk to the members, sit in on some meetings, and generally get a sense of what made this gym such a winning culture.

 
I was fortunate to meet up with Ian Suski first thing - the Fitness Manger.

 

Ian was a really cool guy, he has a great track record, winner of New Fitness Manager of the Year last year (a pretty damn big feat in a company with 300+ gyms and growing) and is nominated for Fitness Manager of the Year this year.

 

He gave me a great example of working smart not just hard. Ian in a word is efficient.

 

He spent more time with me than I could have hoped for and answered every question I had, plus gave me more to think about. I also spent time with some of the other guys.

 

Two of which were Eric Watson (3 time winner of Personal Trainer of the Year - again, in a company with over 2100 Trainers ... not too shabby) and Ben Mockler. Both Ben and Eric are nominated for this years Personal Trainer of the Year and were unbelievable ambassadors of what a Trainer is.

 

They were more than approachable, and just chomping at the bit to help people.

 

These guys work aprox 12 hour days, give 110% to every client at every hour, and the first thing out of their mouths was "when do you have time, I'd love to go over things with you and help out if I can".

 

The entire team made a big impression on me and I'll be cheering my ass of for these guys at the Awards Gala next month.

 
Personal Training truly changes lives and I love being a part of it.

 

Depending on what you google, 67% of people with a gym membership don't even use it. Sounds crazy,but it's true.

 

Over the course of the last couple of years I've seen it ... people join, are motivated for a day or so, and then disappear. They're ok with the money coming out every two weeks, they just live with it.

 

As Trainers, our job is to show people the right path at the peak of their motivation - when they're most likely to actually do something about it. It's what I do for a profession, I love doing it, and if someone is doing it far better than me - I'm down to learn!

 

I really appreciated my time there and am thankful to those guys.
This was far longer than I thought, stands to reason it rambles on, but it's too long to proof read so I'm leaving it up to the rest of world to make sense of it.

 
Me+:
First things first. Does anyone know where I can get this made into a t-shirt?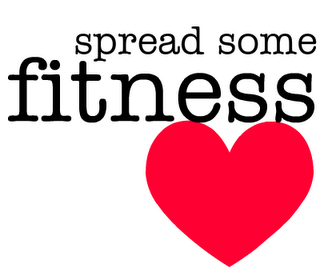 Despite a workout at 6:45am I still got up at 5:25am so I could have a morning flow. I still need to take the dog out, have coffee and prepare my food to eat in the car (as well as get all of my stuff/food together as I had my first conference call at 8am while heading to Guelph). There isn't much happening that early, but the sun is actually sort of up. I had sent Kyle a text the night before (while eating a mini crispy crunch blizzard) to book a session, because I knew if I didn't workout in the morning, a Friday afternoon/evening workout was almost guaranteed not to happen. This is what our interaction looked like:
Me+: PT sesh tomorrow?
Kyle: Yes! A thousand Yes's!! Time?
Me+: Ah-it would have to be ...earlier...
Kyle: How early?
Me+: 6:45am?
Kyle: Damn you Gusmanis. Just kidding...see you at 6:45am. Sharp.
Me+: Really?
Kyle: Ya. We good?
Me+: I thought you would say no...
Kyle: I called your bluff. See you in the morning.
Also, a quick note about the "mini-blizzard", it is very small. If you are looking to go to Dairy Queen and enjoy ice cream, don't get the mini. It's gone too soon and you don't have enough of a chance to enjoy it. I do not eat Dairy Queen as much as I used to, so when I do go-it is a treat. :)
Our workout was straight up:
4 rounds
6 reps-12reps-24 reps (10 seconds rest in between each exercise/1 minute rest at the end of the round)
Glute Ham Raise w/ 25 lbs
Deadlifts 105 lbs
Leg Curl 40 lbs
Rest: 1 minute
Lat Pull Down 70 lbs
Single Dumbell Row 20 lbs
Seated Row 45 lbs
Repeat: 4 rounds
After my workout I got dressed in lightening speed and headed off to meet my co-worker Erin who I was carpooling to Guelph with. I may or may not have dozed off in the car on the way to work, thank goodness I wasn't driving. Also, since my day started a few hours earlier than normal, by 11:30am I was so hungry I was angry about it. I was also out of food, so I had to go out and buy a salad.
As you can see from Kyle post (which I had to edit heavily, like for real he uses lower case i's when saying "i did something..." instead of "I did something"). Kyle wrote quite a bit, so I will keep this short and to the point. I got up. I worked out. I went to work. I felt great. I will be repeating this series on Sunday, but instead of going to work, I will be going for lunch and shopping with a friend. I hope everyone is enjoying the gorgeous weather and spending some time outside.
Now go grab all of the green veggies you have in your house and make a belly shake!
Happy Reading,
Me + My Trainer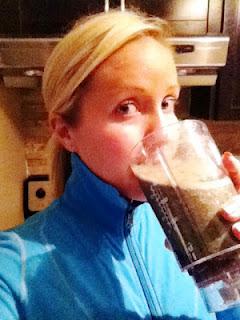 Me drinking the inside.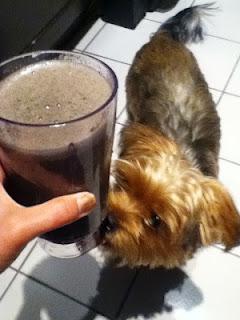 Grando licking the outside.