Sharing Saturdays:
The last of this month's focus on diet and exercise, 
The High Intensity Fitness Revolution for Women claims it can make your look good, fast. 
"If you're the kind of woman who spends an average weekday lounging around, then feel free to put this book back on the shelf. This is a fitness regimen for women who don't have an hour or more to work out each day." 
The High Intensity Fitness Revolution for Women: A Fast and Easy Workout with Amazing Results leads you through a revolutionary workout routine by Pete Cerqua, one of New York City's most applauded fitness trainers.
Cerqua 
owns and operates the 90-Second Fitness flagship studio in New York City. One of New York's most respected and in-demand fitness trainers, he has been helping people lose weight for more than 20 years.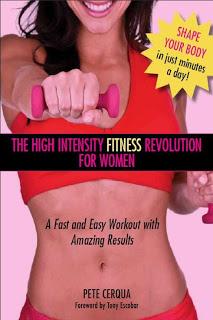 Cerqua claims he knows the secret that will change the way you see exercise forever: short periods of high intensity workout are much more productive and effective than lengthy periods of "overtraining." This book is about getting the best possible result for your body in the shortest amount of time— at home. It focuses on toning your muscles, increasing your metabolism, strengthening your bones, preventing arthritis, achieving great legs, and all around looking and feeling better. 
What I like most about it: there's pictures on how to do the exercises on the machines. While I've downloaded plenty of workout apps on my phone, I still spend most of workout time looking on my Iphone and not on actually doing the exercises. This way I have not only a list of my workout, but how to do it and on what machine. It's the next best thing to the trainer. 
Best of all, if you and your honey are looking to lose some pounds together, there's actually a book just for the hubby, too -
The High Intensity Fitness Revolution for Men.
The High Intensity Fitness Revolution for Women
A Fast and Easy Workout with Amazing Results
By Pete Cerqua
Skyhorse Publishing paperback, also available as an ebook
$14.95 (Under $10 on Amazon.com)
DISCLAIMER:
I received one or more of the mentioned products for the sole purpose of this review. No other compensating was given and all opinions expressed are 100 percent my own. (Accordance with FTC's 16 CFR Part 255, "Guides Concerning the Use of Endorsements and Testimonials in Advertising.")