Good morning!
How is your Wednesday so far?  I'm looking forward to wrapping up a work week today.  At 3:00 AM tomorrow, I'll be off on a fun road-trip with Katy & Chase to see our co-worker, Jeff, get married this Saturday in Milwaukee.   I haven't been on this long of a road trip with anyone except Nick and my friends Lacy & Noelle (when we ran the Disney Wine & Dine Half Marathon.)  I love road-trips and I think this will be so much fun getting to know my co-workers a little more.  We're taking the Prius of course!
For now, let's just do some catching up!
Nick's 10 Year High School Reunion
A few weekends ago, Nick and I attended his 10 Year High School Reunion.  It turned out to be a lot of fun!  I saw an old friend, Amanda, that I hadn't seen in a really long time and we got to hang out with a couple, Will & Anna, that we've recently become good friends with.  Anna and I didn't go to school with these people so she text me right before and asked if I was coming to this shindig and I was ecstatic that her and Will were going to be there because it was a nice surprise to spend an evening with them.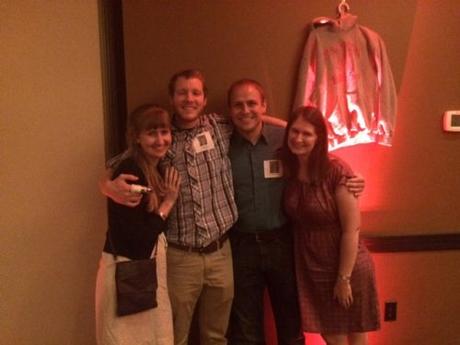 The lighting wasn't great at the venue, but the food, beverages, and company was awesome!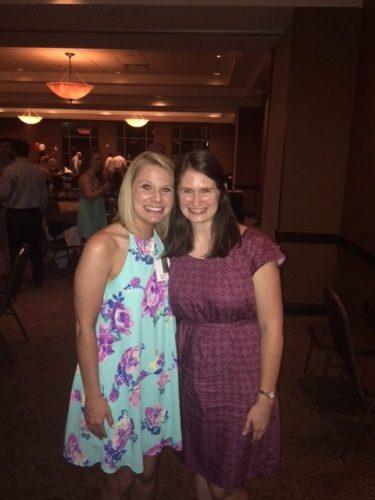 A few things about this picture… 1) That dress is a new favorite!  I found it on sale and the picture doesn't do it justice.  It's a good maroon color and is very flattering.  2) My skin has seemed rather oily lately, so I'm trying out a few Arbonne products to help with that.  Hopefully part of it was the lighting in the room.   I'll get back to you on what the products do for my oily skin right now!  and 3) This girl.. she's just the sweetest!  It was such a treat to catch up.
Cade LOVES his Uncle Nick
This isn't new news, but I love that Kathryn sent me this snap recently.  Cade seems to think that Ed Sheeran looks like Nick and every time he comes on the TV screen while they have music playing in the background, he starts calling Nick's name!  It's the cutest thing.  We miss him so much, but hopefully we have another trip to Disney in store for the near future!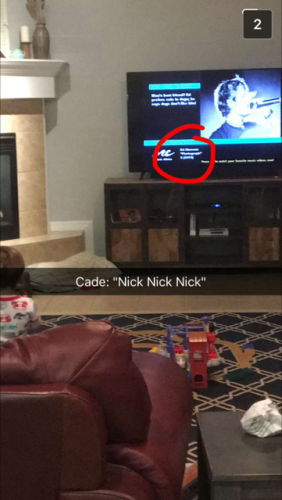 Athenos Greek and Lebanese Cafe
Greek food is becoming my JAM!  We tried a new to us Greek restaurant recently and it was different from what we're used to.  It had a Lebanese aspect to it and the decor was more "date night" than we expected.  I don't know about you, but we're used to a more relaxed atmosphere in a Greek restaurant.  It seemed a little pricier than we expected, but the food was delicious and there was plenty of it!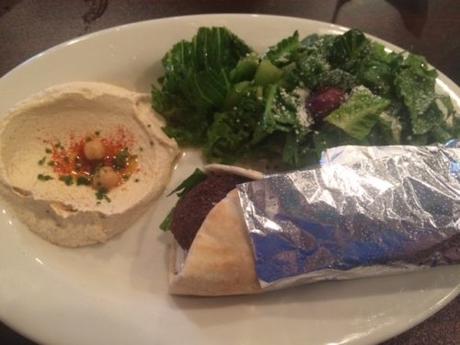 I got the falafel wrap with hummus and a salad.  I was pretty impressed with myself for getting hummus and salad instead of fries.  The hummus was great and the wrap was on point.  We will definitely be going back there again!
Cauliflower Buffalo Wings
You guys… Can we just hold the phone for a hot minute?!  Cauliflower Buffalo Wings… HAVE YOU TRIED THESE YET???!!!!  I bought a head of cauliflower not too long ago, but it had been in the fridge for about a week.  I had one of those lazy evenings at home and decided I should use up that cauliflower before it went bad.   I had been wanting to try Hot for Food's Cauliflower Buffalo Wings recipe and although it seemed like a handful of steps, I figured – why not?!  Turns out, it really wasn't as difficult as I originally thought and they turned out to be my new favorite party food or midnight snack.  I can't wait to make these for friends.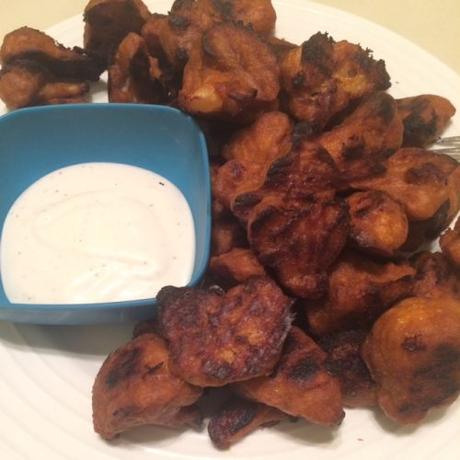 They were perfectly crispy and had just the right amount of heat.  It seemed like I burned them, but they didn't taste burnt at all.  I'm a huge fan now!  Also, cauliflower has a lot of nutritious benefits I realized – lots of protein, fiber, and potassium!  #winning
Have you gone to your highschool reunion yet?  What was it like?
Do you like cauliflower buffalo wings?  What's your favorite recipe to use?
Have a wonderful Wednesday everyone!