I'm sure that you have seen and heard a gazillion posts about this collection. But I am jumping in on it, too. Wanna know why? Because this is the first time I have ever been able to get my hands on a limited edition MAC collection. I am pretty darn excited about it and I want to talk about. Mmmkay? Okay. I am in a bit of a sassy mood, in case you couldn't tell.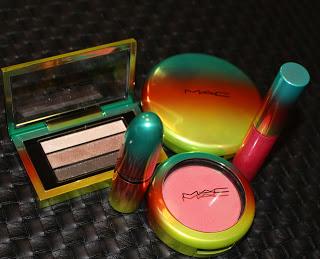 First of all, the packaging is amazing.  It is bright, shiny, and colorful, which is obviously perfect for summer. Everything in the collection, except for the eyeliners and brow products, are encased in yellow, orange, and green. Pretty snazzy and eye-catching.  In fact, based on images I've seen from previous MAC collections, this packaging is my favorite.
The Wash & Dry collection has a myriad of products, and I purchased five of them.  I REALLY wanted the Freshen Up highlighter, but it was just too yellow and orange.  Not my favorite colors.
Here is what I did get: the Steam Heat lipstick, Domestic Diva lip glass, Permanent Press Veluxe Pearlfusion eyeshadow trio, Hipness powder blush, and last but certainly not least, the Studio Sculpt Defining Bronzing Powder in Golden Rinse.
Let's chat a little about each individual product.
Steam Heat Satin Lipstick
 is a statement making red orange lipstick that is not for the faint of heart. I did not expect to love the color as much as I do because I always lean towards blue based reds. But this shade is so gorgeous and powerful.  The formula is nice, too. It does dry my lips out ever so slightly, but it has not been an issue.  It doesn't bleed or feather. Love, love, LOVE this lipstick.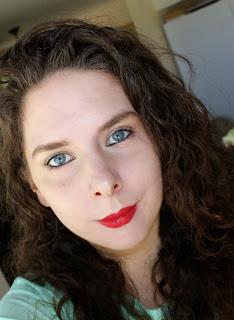 Domestic Diva Lip Glass
is the one product I haven't used yet.  Actually, I got this for my mom because I'm not much of a gloss girl.  Domestic Diva is a gorgeous, sparkling pinky coral lip gloss.  When swatching it, it did feel a bit too thick for my liking.  All I can think of is my hair sticking to my lips. Not a cute look.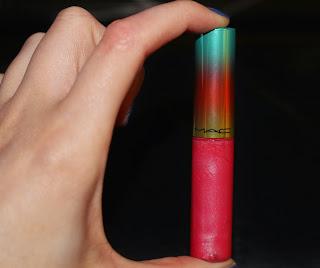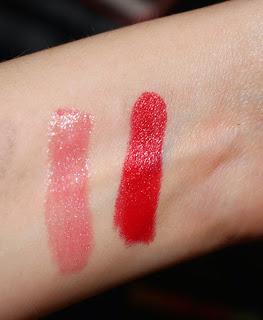 Domestic Diva and Steam Heat
Permanent Press
is a lot prettier than I expected. Especially the center taupe-ish shade. I honestly have no clue how to describe that one.  Something between a taupe and bronze?  Whatever the heck it is, it is lovely.  It is sheer, but it can be built up. Note the sparkle. This eyeshadow will not be for everyone. I really enjoy it, though.  For a quick look, I blend the center shade all over the lid and into the crease and use the lightest shade to highlight my brow bone and inner corner.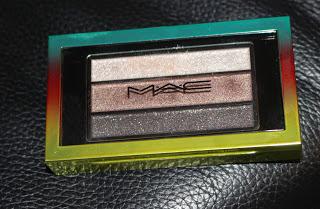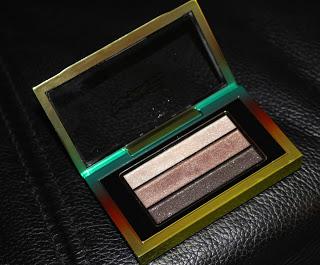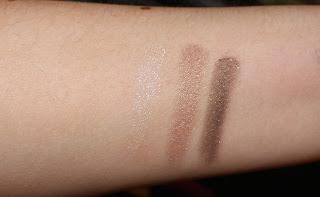 Hipness
is such a pretty pink blush.  It isn't too pigmented, which is perfect. Highly pigmented blushes actually scare me because of my fair skin.  Hipness allows me to be a little less careful.  The color can be built up, or you can just sweep a little bit onto your cheeks for a quick flush. It blends out easily and adds a nice touch to any look. At first glance, I thought this was a matte blush. But there are traces of shimmer. However, I didn't notice it once applied. This blush is smooth, not chalky or patchy, and basically just nice.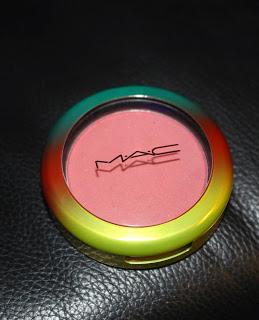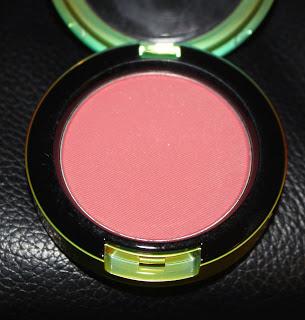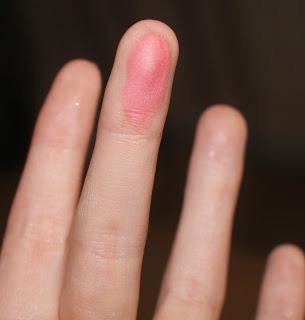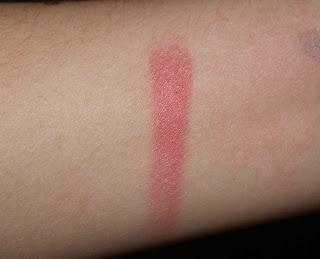 Golden Rinse
 is a beautiful bronzer with a unique texture.  It is described as a "liquid powder" which is accurate.  You can tell that it isn't a true powder, and blends out very well.  I've worn it on my cheeks and I have used it to do a light contour.  I prefer it as a cheek color as it just adds a little bit of warmth and glow (it is not matte).  It isn't highly pigmented, so it probably will not work for darker skin tones.  They do have it available in a darker shade if you are interested.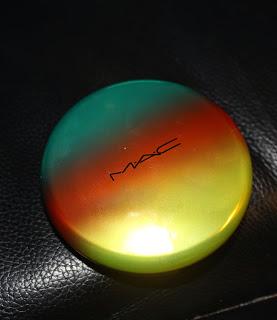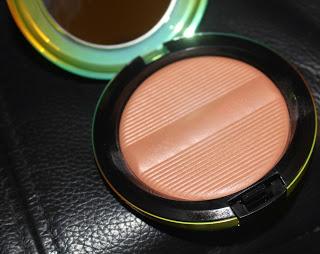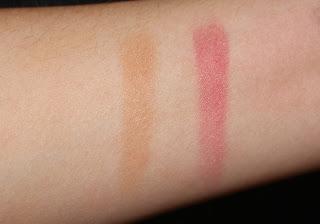 Golden Rinse and Hipness
I apologize for the less than stellar pictures.  When I got home, it started pouring and it has been gross outside ever since. So I was stuck inside relying on my flash.  I may post a look using all of the products from this collection so you can see the products at work. I had intended to get a second post up today, but as you can see, that is not going to happen.  I didn't fall asleep until 6 am, I got busy doing stuff around the house, ran errands and by the time I got home, it was already 5 pm.  Where does the time go?
If you would like to see a look of the day with the Wash & Dry Collection, let me know in the comments section.  I'm also considering doing a 50 Facts About Me post because I've been doing this for a few years now and I realize you guys probably know absolutely nothing about me.