I lost you at Propolis?
Get comfy and take out your pad and paper. I'm about to drop some knowledge on you.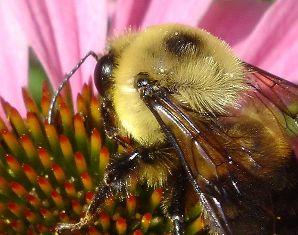 Propolis is a sticky substance that bees collect from trees to use as 

cement

to repair, maintain, and seal their hives. For centuries, people have relied on bee Propolis to cure a variety of ailments. The substance has been scientifically proven to have antibiotic and antiseptic properties, making it an ideal natural remedy for a plethora of skin issues.
BEWARE SWEET READERS:
*

Consumers should be aware that personal and beauty products containing bee propolis is not for everyone. Individuals who are allergic or sensitive to bee stings or bee products should avoid products containing bee propolis.

*
The Brand

-
Holocuren

was founded by Robert B. Heiman, who is also the founder and formulator behind the internationally acclaimed

skin care line

E

picuren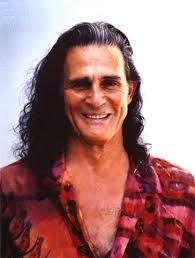 Image: holocuren.com

As senior formulator of the Holocuren line , Heiman uses his forty years of formulation experience to create innovative, effective, and natural personal care solutions.
According to their website, Holocuren's mission is to:
"Provide our customers with quality, high performance products that are constantly evolving and thus offering what is new and best in science and technology".
The Products-
Before I get started with my review, I want to chat a little about two of the main ingredients in Holcuren's products.
I already told you a little about bee propolis, but I'm going to break it down a little more here. Holocuren uses Brazilian Bee Propolis exclusively. The only difference between the Brazilian Bee Propolis and other Bee Propolis is the Brazilian Bees use their Propolis to protect their hive from protection.
Another instrumental ingredient Holocuren utilizes is Australian Melaueca Tea Tree Oil. Native to the northeast coast of Wales, Australia, this antiseptic oil has been healing for thousands of years. It effectively cleanses the body of bacterial, viral, and fungal infection.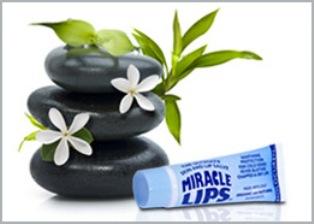 Image: holocuren.com

Miracle Lips
$12.95 for a 0.33 oz tube
Holocuren's Miracle Lips is a two-in-one medicinal lip salve that can improve lip health, heal and prevent cold sores, and treat chapped lips. Formulated with Shea Butter, Australian Melaleuca Tea Tree Oil, a high concentration of Brazilian Bee Propolis, a whopping twenty-five butters, vitamins, peptides, and enzymes. So yeah. It's packed with awesome goodness. There is no artificial flavor or fragrance. BUT, it does smell and taste heavily of Tea Tree Oil.
I

LOVE

this lip balm so much! I can assure you though that there will be some things that you need to get used to when using Miracle Lips for the first time. However, I can also assure you that once you get used to it's uniqueness, you will be addicted!
Like I mentioned earlier, the Tea Tree Oil taste and smell is quite strong, and if you are not a fan of Tea Tree Oil then Holocuren's products are not for you. I don't mind the taste or smell and found it to be pleasant. It's just a matter of personal preference. If you don't know what Tea Tree Oil smells like I am not sure how well I can describe it. The best I can do is that it is medicinal, sort of minty, and a little green. Some people really dislike it and others, like me, aren't bothered by it. I have long been using Tea Tree as a natural healer (for pimples mainly) and think at this point, I am used to it.
The second thing that you will need to get acclimated to is the texture. Bee Propolis in it's most natural state is a crystalline form. When you apply Miracle Lips to your pretty pout, the balm feels bumpy and grainy. While this sensation may startle you, rest assured that there is nothing wrong with your balm, and not only is it normal, but it is totally beneficial. The gritty Propolis acts as an exfoliator, working hard to slough off dead skin cells off your lips. This helps the moisturizing and healing properties of the balm penetrate faster and easier, ensuring optimum lip health. When the Propolis crystals make contact with your body heat, they start to melt. And in minutes you won't be able to feel them at all, even though they are still there, working hard for you.
Another awesome thing about this product is that it can be applied to any ailment, anywhere on your body. I have been using it to reduce redness and heal pimples. It is extremely effective and again, I am totally addicted. I once read on the back of a very popular acne treatment cream the following statement:
"Product may bleach clothing or furniture. Use caution around fabrics."
What?! Seriously? Why would you want to put something that could bleach your clothes or couch on your face? Sounds hardcore to me. Miracle Lips is a safe all natural alternative to scary chemical-laced pimple solutions.
 I have also heard that it works miracles with ingrown hairs, and I have been using it when my daughter's get knee scrapes. Also, my oldest daughter has a terrible habit of biting her upper lip. Really she is biting the top of her upper lip at the skin where that cupid's bow thingy is. Anyway, she gets all red and chapped there. But ever since I have started applying Miracle Lips to the area nightly, it has completely disappeared. How do I know she just didn't break her lip biting habit? Well because I am her Momma and I tell her 5000 times a day to knock it off.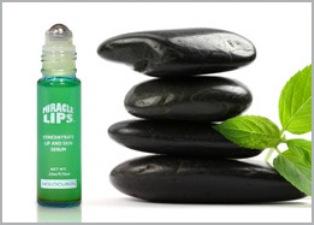 Image: holocuren.com
Miracle Lips Concentrate Lip and Skin Serum
$14.95 for a 0.33oz glass bottle
The Lip and Skin Serum version of Miracle Lips is essentially the same formula as the balm version but in a liquidy, serum form. Also ideal for multiple uses on the body as well as providing lip nourishment and health.
I really loved this product too! BUT, there are a few cons that I found to be associated with the serum version compared to the balm. Probably most of these cons are due to personal preference, so you may not feel the same or have the same experience as me.
I do love the sleek glass jar with the cooling metal roller ball applicator. However, I do not like that the serum leaks out around the roller ball and coats the inside of the cap, inevitably squishing out of the cap and making things in your bag or pocket all serumy and oozy.
The minty green Tea Tree Oil taste and smell is stronger than the balm, and you can feel the tingly sensation the Tea Tree Oil creates much more with the serum.
Also, the serum does not seem to penetrate as deeply or as quickly as the balm does. I feel like I end up licking most of it off of my lips. Have you guys ever tasted Tea Tree Oil? It's not delicious. It's not a big deal at first, but after a while the taste of it in your mouth gets a little old. And yucky. But again, that is my perception. You may think Tea Tree oil tastes super scrumptious.
All in all I really love the Lip and Skin Serum version of Miracle Lips, I just prefer the balm.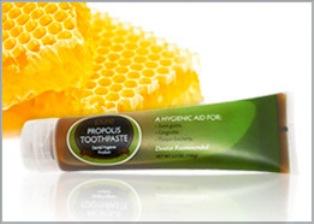 Image: holocuren.com
Pure Propolis Toothpaste
$12.95 for a 5.5 oz tube
Look, I know toothpaste isn't very exciting. But before your eyes glaze over and you skim past this next review, please know that Holocuren's toothpaste is so different from anything you have ever used. It is unique! And that makes it exciting! Promise.
Brazilian Bee Propolis strikes again with it's anti-oxidant, anti-bacterial, anti-fungal, anti-viral, and anti-inflammatory properties. This powerful wonder drug attacks only harmful microbes, and selectively leaves alone the mouths necessary bacteria.
I was on the fence when I first received the toothpaste. It looked weird. Now, I know that makes me sound like a whiny five year old,  but seriously. It looked weird!
First of all, it's stinky swamp green people. It's a pretty color green but not a color that makes you go "Wow! I bet that this toothpaste will do amazing things to my mouth!"
Then, when I tried it out I was all like:
"Yikes! It tastes of Tea Tree Oil!"
Then, the following thought process took place:
"SIGH. This is not going to freshen my breath."
"ACK! Are my teeth going to turn green?"
"OH NO! Will this make stain my sink with awful green streaks?"
"THIS IS SO WEIRD!"
Once I rinsed I realized that all of my anxious negative thoughts were totally bogus. Pure Propolis Toothpaste delivered on all of it's promises! Miraculously, my breath was fresh, my teeth were sparkly clean, and my sink was not stained. I am a believer folks. My husband on the other hand, not so much. But, he is put off by Tea Tree Oil so really I'm not surprised. Again, this is a personal preference thing.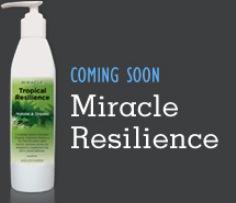 Image: holocuren.com
Holocuren has been busy formulating their newest product,

Miracle Tropical Resilience

. Holocuren is keeping the details of this lotion super hush hush, but I can tell you that it was formulated using the same beneficial ingredients as Holocuren's other fab products. This lotion will focus on larger portions of your skin though.
Holocuren is so worth your time guys! Everything is 100% effective and all natural! What's not to love? Learn more about Holocuren, and shop the products on their

website

, and like their

Facebook

page.
Tell me what you think! Have you tried this brand? Do you want to? Why or why not???
*The products featured in this post were sent to me directly from Holocuren in exchange for my review/consideration/promotion. Please know that the opinions and thoughts expressed by me in each and every one of my posts are of my making, and always will be. I promise to my sweet readers to guide them through the wonderful world of beauty with truthful content that helps, rather than hinder their decision making processes.*