Yes! I have another brand to share with you that uses bee stuff in their products. Meet

Beecology

!
Bee stuff? Jeeze. That sounds ridiculous. I promise that I will get more specific about the "bee stuff" as this post goes on.

Image: beecology.com
The Brand-
Roughly six years ago Beecology founder David Rzepka's life changed forever. A co-worker was experiencing dramatic changes in their own life that prevented them from taking care of their beloved beehive. David decided to do his co-worker a solid, and agreed house the hive on his family's farm.
David did not plan on becoming a beekeeper, and he certainly didn't anticipate enjoying his new role. But over time, he found that tending to the bees allowed him time to reflect on life, and enjoy his love of science. David quickly started to see how the bee's world paralleled our own, and he poured himself into research. He also started to attend bee workshops at Ohio State University's agricultural campus. All of this newly acquired knowledge was inspiring, and sparked an idea. David decided that he wanted to make natural beauty products using honey, beeswax, and other good for you ingredients.
Today, Beecology churns out superb hair care, body care and skin care products using that philosophy. Also, Beecology thinks it is important to give back to the world. The company uses

sweetyear.org

to donate 10% of profits from each product purchased to charitable organizations. The best part about this is that sweetyear.org lets you determine how your consumer dollars are distributed by choosing the charity Beecology donates your money to. Each product you purchase from them has a "charity code".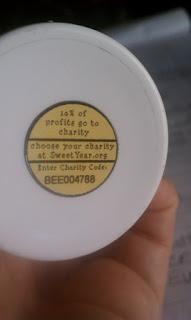 This is my own image yo.
Once you enter this on
sweetyear.org
you are taken to a list of charities. I decided to donate to 
Autism Speaks
. After you choose your charity, the next screen shows you the percentage of donations that each charity has raised on the site. Pretty cool stuff!
The Products: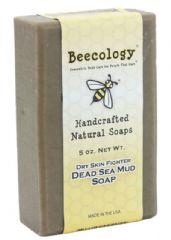 Image: beecology.com
Dead Sea Mud Soap
$5.99
People have long used Dead Sea Mud to tighten, balance, and draw impurities from the skin. Beecology took this super mud and combined it with a blend of essential oils, Beeswax, and Shea Butter. This purifying soap does not contain perfumes or dyes.
For the past few weeks I have been using this soap on my face and body. After the first few days I started breaking out, and thought maybe I should stop using it on my face. But I decided to continue on, and I am so happy that I did. My face is in fantastic shape! The pimples cleared up quickly, and I am pretty sure they were a result of the Dead Sea Mud doing it's job.  On my body the soap leaves me feeling clean and moisturized. My skin doesn't feel stripped of moisture like it usually does with bar soaps.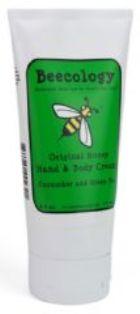 Image: beecology.com
Honey Hand & Body Cream
$12.99 for a 6oz tube
Available in Original and Cucumber and Green Tea
Beecology's Honey Hand & Body Cream is packed with hydrating ingredients like Cupuacu, Shea Butter, and Olive Oil. It promises to never be greasy and to always soothe, heal, and relieve uncomfortable dry skin. The original formula has a light and delicate scent thanks to Beecology's honey. The Cucumber and Green Tea scent is clean and refreshing. It contains Bee Propolis to lock in moisture. Propolis deserves props big time guys!
I took the

Cucumber and Green Tea

version for a test drive. The cream is rich but absorbs quickly leaving skin supple and hydrated. The delightful scent is lovely and in no way overpowering. In fact, once you rub the cream in, the scent is hardly detectable at all. This has been living on my desk at work, and in the few weeks that I have been using it (obsessively) I have noticed that my cuticles are less ragged and my skin isn't as dry as it usually is. It's good stuff folks!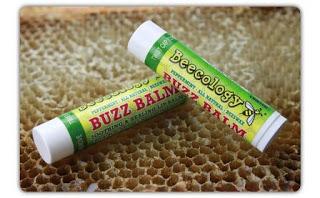 Image: beecology.com 
Buzz Balm Peppermint Lip Balm
$2.99
Coconut Oil, Beeswax, Shea Butter, Aloe Butter, Cupuacu Butter, Olive Oil, Peppermint Oil, Acai Butter, Eucalyptus Oil, Clove Oil, and Tea Tree Oil.
I love reading an ingredient list that I can not only understand, but I know what each ingredient is and why it's there. Enough said.
*Imagine me throwing a microphone on the floor.*
This balm is fantastic. The Peppermint Oil is cooling, the balm is super moisturizing, and it stays put for a long time. Simple and effective. What else do you need?
I gave one of these balms to my work boo Tia. Here is what she thought: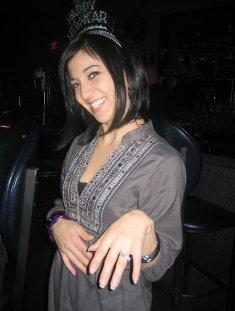 Stole this from Tia's Facebook page. Whatever. Don't judge, I gave her a lip balm.   And the picture that I chose to use  without her permission is a really pretty one!
"I love that it makes my lips tingle! So balmy and moisturizing!! And, the fact that Beecology let's you choose where your money is donated to is so fabulous!"
It is fabulous indeed. 
So that is two more votes for
Beecology's
most popular product.
You can find all of these buzz worthy (haha, brilliant!) products at Beecology's

website

, follow them on

Twitter

, and like their

Facebook

page.
Big thanks to Beecology for working with me, and Tia, I love you doll! Thanks for sharing your thoughts!! And the stolen picture! xo
*The products featured in this post were sent to me directly from Beecology in exchange for my review/consideration/promotion. Please know that the opinions and thoughts expressed by me in each and every one of my posts are of my making, and always will be. I promise to my sweet readers to guide them through the wonderful world of beauty with truthful content that helps, rather than hinder their decision making processes.*