For those of you who can't read French it says Le Edge is fabulous and innovative. It's true! This little tool has changed how I look at exfoliating. I should tell you that I am a slave to exfoliation. I do it everyday and love all kinds of scrubs. Le Edge is not a scrub, it's not a loofah or peel. This my friends is a tool. With a blade. WAIT! Don't run away! It's not dangerous. I would never hurt you. Promise.
Now behold readers,
Le Edge!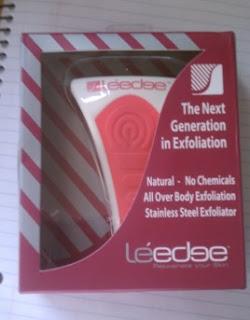 I know it doesn't look like much in the box but
LOOK!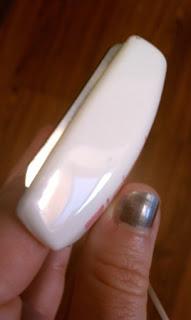 Please excuse my gross nail. Need a manicure.
AND THIS!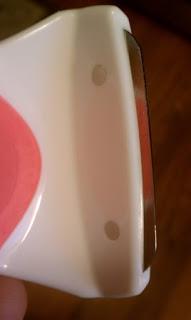 Kinda looks like a razor doesn't it? But it's not. You could never injure yourself in any way using this. This magnificent tool will exfoliate you like you have never been exfoliated before. Innovative and effective, it will change how you see exfoliation.
Le Edge is designed to remove dead skin cells all over your body. It is hypo-allergenic and will never rust. NEVER.You use it in the shower under running water, no extra product needed. Hold it like you would a razor and just swipe all over. You can use it on your face, legs, feet, arms. ANYWHERE. Just use common sense and don't run it over a pimple or open wounds. NO OPEN WOUNDS. After using just once I was in love. This exfoliated like no ones business. AMAZING. My razor glided over my skin while I was shaving. I am prone to nicks and cuts and that didn't happen. NO NICKS OR CUTS. When I dried off my entire body was so smooth! SMOOTH. (Imagine me whispering the all caps words.)
Regular body scrubs remind me of one night stands. You are all caught up in the moment. Scrubbing away, enjoying the smells and sensations. Not thinking of the possible consequences. Then BAM. The next morning you nearly kill yourself stepping in the shower. That damn scrub that wooed you yesterday has left a nasty, oily ring in your tub and you slipped. You almost died!
 Not a problem with Le Edge!
Do you need this? Yes, yes you do. Men need it for their face to prevent ingrown hairs and women, your legs will be soft and your bikini area will be bump free. Also, those blackheads on your nose? Just a few swipes and Le Edge will remove all of the gross stuff sitting on your face that causes blackheads. POOF gone. It gets better. Le Edge comes in pink for the ladies and blue for the gents. That way everyone knows whose Le Edge is whose, and the man in your life won't feel like a sissy for using a pink exfoliation tool. I think my husband needs one in his stocking. Are you with me?
Faites-le pour votre peau, essayez-le.
Oh right. You don't know French.
Do it for your skin, try it.
Le Edge can be purchased at 
http://le-edge.com/