This is my second weight loss update since Kenin and I started on this journey. That means as of right now, we have been exercising and eating healthy and drinking our shakes for two weeks now.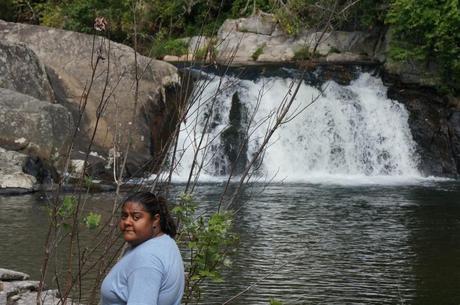 Hike to Linville Falls
Girls all know the plight of trying to lose weight. My plight is made that much more difficult because I am doing it with a guy as my partner.  Guys put us to shame when it comes to weight loss and it can be a bit demotivating. They have more muscle mass and burn calories faster. They also retain less water and there fat spreads evenly across their bodies. Women tend to gain weight all through the middle.
I found a whole new reason to want to push Kenin down a flight of stairs this week after beginning our 90 Day Challenge… the Captain of the high seas, ruler of the red tide … that's right ladies, the evil period. Every woman has to deal with this monstrosity and it is the biggest way to get demotivated from exercising and being healthy. You just want to curl up on the couch with a bucket of popcorn and a blanket and only come from under your blanket to punch random people in the face!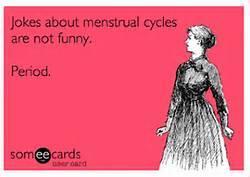 Period joke
My biggest challenge this week was to keep my butt at the gym. I gain anywhere from 3-5 lbs of water retention every month and it is very difficult to get back to my workouts when the scale becomes my mortal enemy. I gained about 5 lbs this past week, but alas, I have a supportive (and brave) husband that got me off of the couch and outdoors to get my fitness on. I exercised everyday and stuck to our diet.
If I can do this, anyone can! Don't let evil Aunt Flow derail your fitness. Get our there and get moving. At the end of my week from hell, I weighed 178. That means even with all the water retention, craving, and less exercise I'm still down 7lbs after two weeks!!  I am now down another pound and I can feel muscles aching in places I didn't even think I was working on. Looks like this plan is working and I am committed to staying OnTheRoadToFit!
My Weekly Progress Report
Weight at Beginning of 90-Day Challenge – 185 lbs
Weight as of this writing – 178
Exercise – 3 days of walking/jogging 30 minutes per session up and down hill, 1 day of hiking to a waterfall, 2 days of rest.
Are you planning on your own fitness journey? Check out this great system to help you reach your fitness goals.
If you found this post helpful or inspiring subscribe to our newsletter. You may also want to see how our journey stared by checking out these related posts.
Accepting the 90-Day Challenge for a Fitter Sexier Us!
Time to Make a Change and Get On The Road To Fit!
Lauren's Week 1 Weight Loss Update 
Keep in touch and follow my journey on Facebook,twitter, Google+,Pinterest, and Instagram