I don't use much loose powder, simply cos I'm a klutz and it usually explodes in a cloud in my face, making me look like I've been snorting loose powder, rather than helping to set my BB or foundation nicely. So far, the few loose powders that have made it successfully into my makeup dresser are the Laneige Satin Finish Loose Powder and the Hera HD Fix Powder.
Here's one more addition to my overcrowded makeup stash.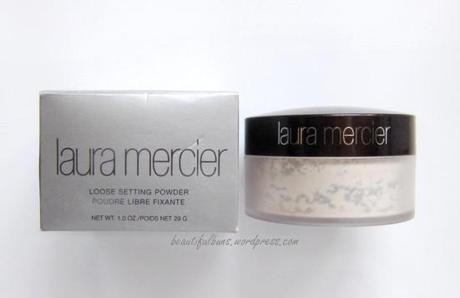 Laura Mercier Loose Setting Powder – Translucent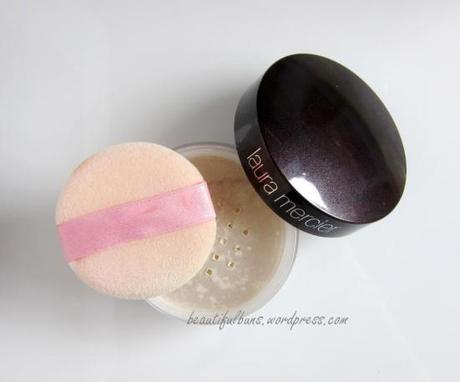 The usual
holy
holey tray with a puff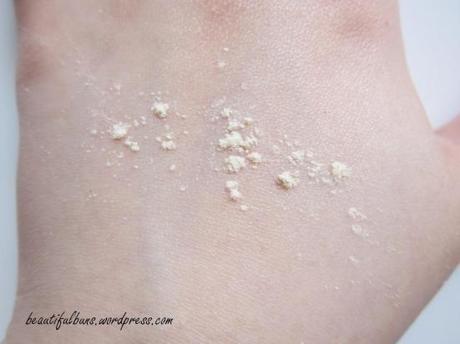 Sprinkling some powder on my hand so that you can see it…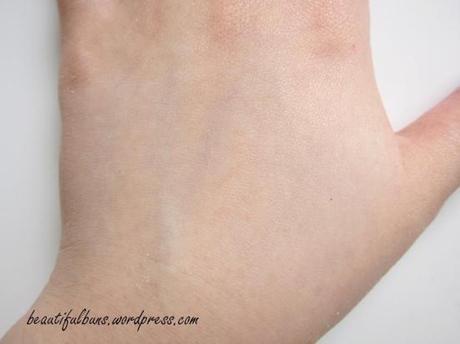 … holy mother of disappearance – the powder is so fine that it's gone!
I say…
I'm suitably impressed, considering that I wasn't expecting anything from this product.
Dispensing the product was the usual mess – tap, tap, tap the side of the tub, and -foom- out comes a mushroom cloud of powder. If it came with the net that the Hera HD Fix Powder had, it would be perfecto.
The puff is suitably soft and handy-sized.
The tub is easy to open, with the usual twist-open cap.
In fact, there's nothing outstanding about the packaging – it's idiot-proof and works fine in the conventional way.
What makes this product a major stand-out is its powder grains. Holy mother of fine powder grains – this is really awesome!
It's so lightweight, fine and silky that you can barely see it. And no wonder – it's said to contain French "cashmere" talc. 
It sets my bb / foundation nicely without caking.
It helps to mattify my oily nose without much caking either.
In fact, when I use this to blot my nose, I can barely see any trace of powder, vs the Laneige Brightening Sun Powder which I've been using to powder-blot my nose in the office.
There's no scent from the powder either – to me, it seems to be the quiet performer who does its job without raising a hoo-ha like those annoying gossipy corporate OLs hurhurhur.
I'm so promoting this product as a must-use and must-keep product in office, especially for days when I have to touch up the face before heading out. You should try this!