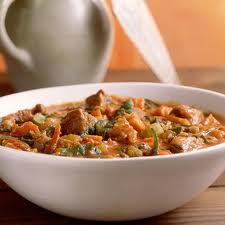 TIME: 25 MIN.
DIFFICULTY ': **
INGREDIENTS:
400 gr. of legs of lamb
100 gr. of his liver
1 onion
2 cloves of garlic
1 pepper
1 glass of wine
4 tablespoons olive oil
laurel
1 tablespoon flour
salt
pepper
1 cup of broth
parsley
PREPARATION:
Fry the whole garlic cloves and set aside.
In same pot, stew the meat with salt and liver, and stir over high heat.
Put the liver.
Golden fried onion and bay leaf in the nite.
Add wine and peproncino.
Let withdraws stir.
Pour flour and broth, cook for 45 minutes.
Crushed garlic with the liver, pepper, a dash of olive oil and pepper, to obtain a paste.
Diluted with the broth and pour over the soup with the parsley.