When I look at photographs of Le Cinque Terre in Italy, my heart totally swells with emotion.  The sunsets are magnificent, the views of the mountains that roll into the sea are breathtaking and the colors are striking.
It is one of the most desirable destinations in Italy, and people come from all over the world to experience the emotion first hand.  You can easily travel between "The Five Lands"  and explore the hiking trails and charming Piazzas, each with their own character, beauty and historical significance.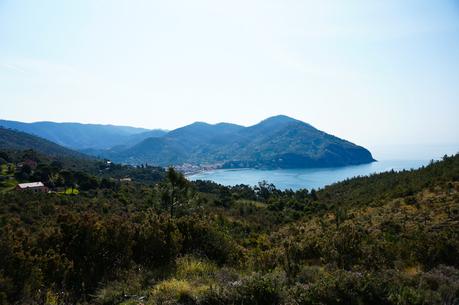 View of Le Cinque Terre from a hiking trail within La Francesca Resort.
I was invited by the owner of La Francesca Resort to stay for the weekend with my family in one of their cottages.  I have been to Le Cinque Terre before but I'm so glad I was offered the opportunity to experience this unique part of Italy in such an intimate and rare way.  La Francesca really offers nature loving tourists and families a vacation in Le Cinque Terre unlike any other hotel.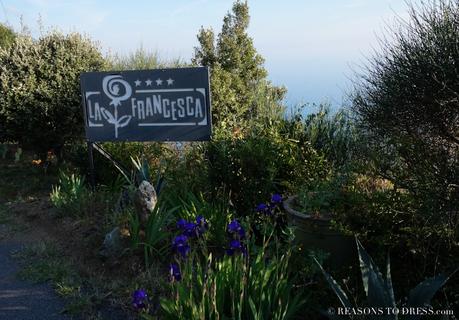 The Story of Le Cinque Terre – A Lost Paradise
The narrow shelf of mountains that is the Eastern Ligurian coast, stretches from Portovenere to Le Cinque Terre and the entire area is a UNESCO World Heritage Site.   "The Five Lands" or rather Le Cinque Terre, are five ancient towns that are nestled into the mountainside in the National Cinque Terre park.  They were virtually unexplored by the rest of Italy before the 60s due to the lack of roads and accessibility, however, Marco, the owner of La Francesca resort remembers the first time his mother took him to the land she would eventually buy to create La Francesca Resort. At the time he was eight years old and it took them over 8 hours to arrive from Milan, along roads that were so narrow that only one car could pass at a time, driving at a snail's pace.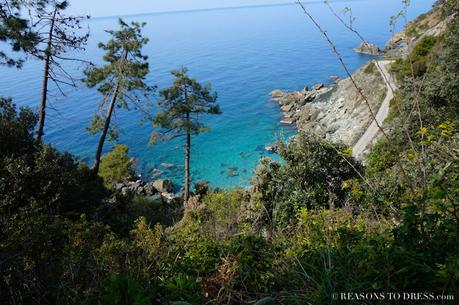 View of the sea from the terrace of La Francesca Resort's restaurant balcony.
At the time the Liguria and Le Cinque Terre were just beginning to become a new popular tourist destination for Milanese (people of Milan).  It was the beginning of an era that would see the area quickly fill with Milan style architecture and hotels to accommodate the ever growing rush of tourists from the city.
Gloria Bortolotti De Poli, a young woman from Milan who was not yet 30 years old, had a dream of creating an oasis for families and tourists to escape into nature.  She would be one of the FIRST people in Italy to create an "eco-resort" , leaving the terrain practically untouched and pristine.  It took her 4 years to purchase all of the 32 separate pieces of property that now comprise the 15 hectares of coast of La Francesca Resort.  4 Years later and the resort finally opened in 1961 and has been owned and operated with great love and care by the same family ever since.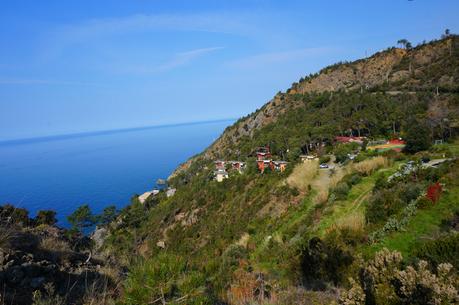 A view of La Francesca Resort from one of the resort's hiking trails. The structures between the trees are the actual cottages where guests stay.
La Francesca Resort – Discover the REAL Cinque Terre
The land between Bonassola and Levanto is known as "La Francesca" which actually refers to an ancient path used by the Romans to gain access to "Gallia" for thousands of years.  Gallia, which is now France in Italian is "Francia", hence "la Francesca"!  All of this information (along with a short degree in history!!) can be found online here through La Francesca Resort's website in a pamphlet  written by the owner Marco, an international documentary film maker.  La Francesca is not inside of Le Cinque Terre National Park, but rather in the "Liguria di Levante", Ligurian Riviera a 5 minute train ride away.
Not your average vacation spot, La Francesca is comprised of 55 private cottages that are each equipped with a fully functioning kitchen, living / dining space, washroom and bedroom(s), depending on the size of the apartment.  You are encouraged to park your car and leave it parked, exploring the vast resort by foot.  Make your way down the steep path in the evening to the restaurant, or up the same path to the caffè, adult pool or immense children's playground. Each apartment has a view of the Ligurian sea and the sunsets are breathtaking.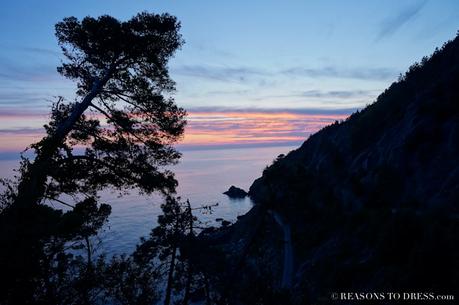 If you are really feeling adventurous, walk down the staircase, embedded into the mountainside to their private stoney beach to enjoy the view and crystal blue water.  Let the children play in the seaside kiddie pool while you enjoy a drink at the bar!  From the beach you can access the hiking path which will lead you to the center of Bonassola in about a 15 minutes walk (with access to the train station), or the center of Levanto in about 25-35 minutes.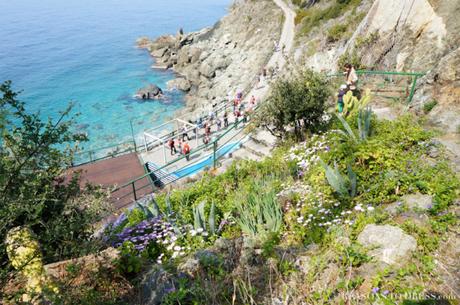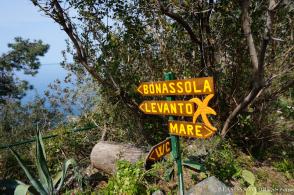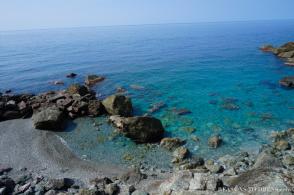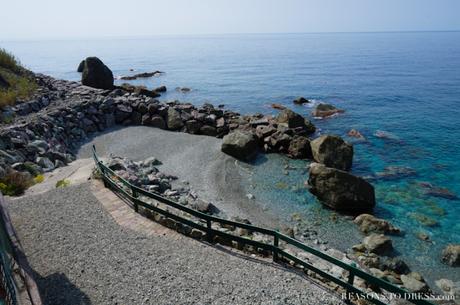 Our stay was too short and all I could think was that the PERFECT vacation in Le Cinque Terre would be for a week (or two) using La Francesca Resort as your home base, while going to a different destination daily.
A Children's Paradise
Daily exploration is incredibly exhausting and everyone needs time to truly relax and unwind.  La Francesca Resort is a haven for families with kids of ALL AGES because on your "off days" there is plenty to keep the kids occupied!  The playground alone is one of the most incredible I have ever seen.  Tucked into a large area behind the cafe (meaning you can watch your kids from the cafe balcony while you enjoy your cappuccino!), it is surrounded by ancient overhanging marine pine trees for the perfect mix of sun and shade.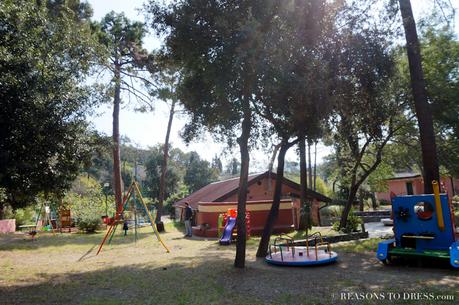 The playground is divided into three distinct play areas; one for younger kids with a fun mix of swings, slides and climbing structures, a large mini golf area, and a wooden CASTLE, complete with a hanging bridge, castle walls and towers!  It is like the fort of every kid's DREAMS!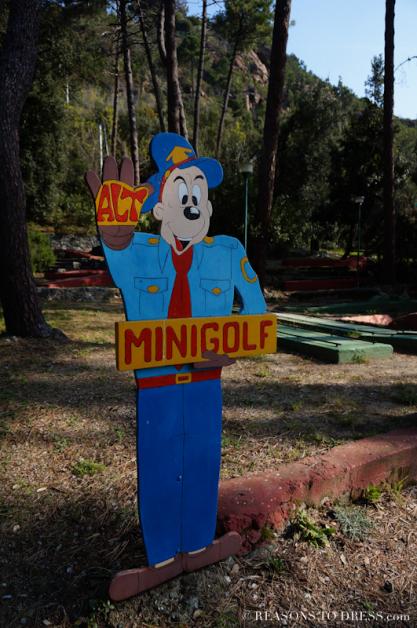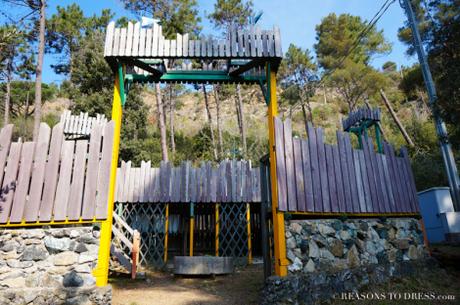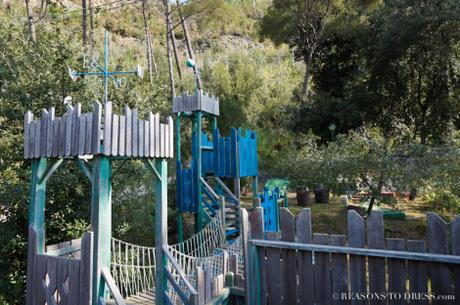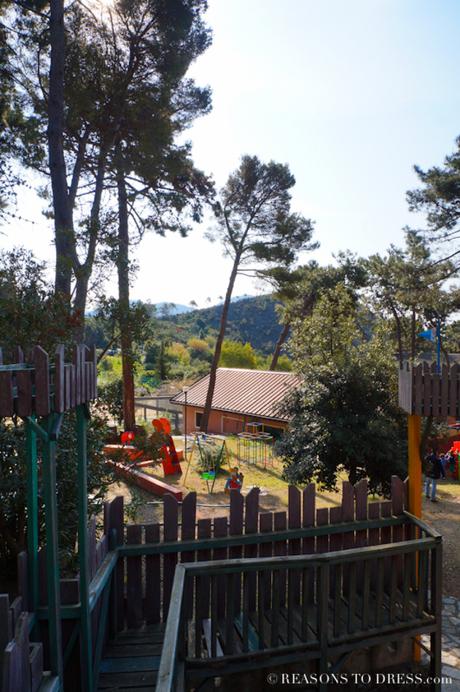 I've already mentioned the sea-side kiddie pool and you'll also find other services like high chairs in the restaurant, alternative menu options for kids and the comfort of having your own private fridge and kitchen in case you need to prepare formula, baby food or you have special dietary requirements.
Comfort – Live like a local
La Francesca gives the average tourist the ability to live Le Cinque Terre not like a tourist but like a local with a private home! In the comfortable apartments you'll find everything you need to prepare a meal, including pots, cutlery, plates, a kettle etc.  If you are traveling with a food allergy that doesn't allow you to eat in restaurants, having the benefit of a fully stocked kitchen is priceless.  This is also a great option for Celiac travelers or travelers who have a gluten sensitivity who can easily have breakfast, lunch and dinner in the comfort of an apartment while being immersed in the Cinque Terre.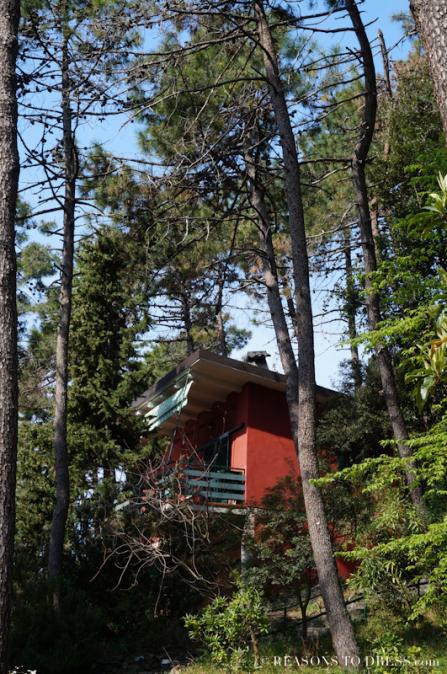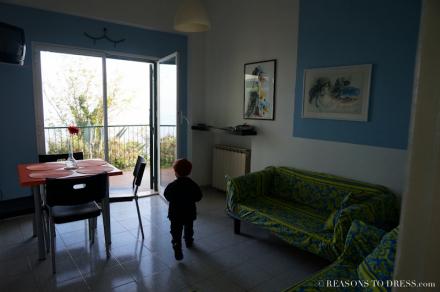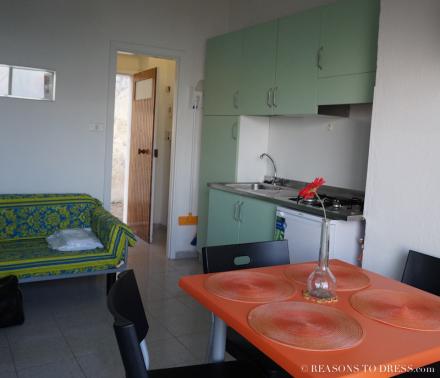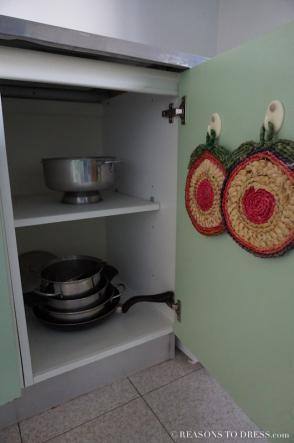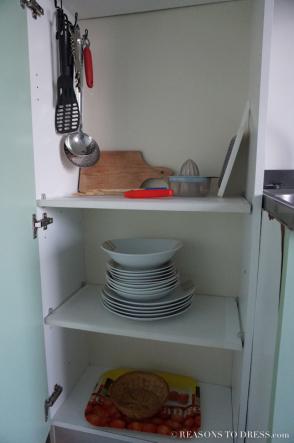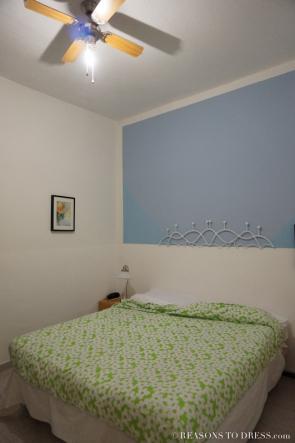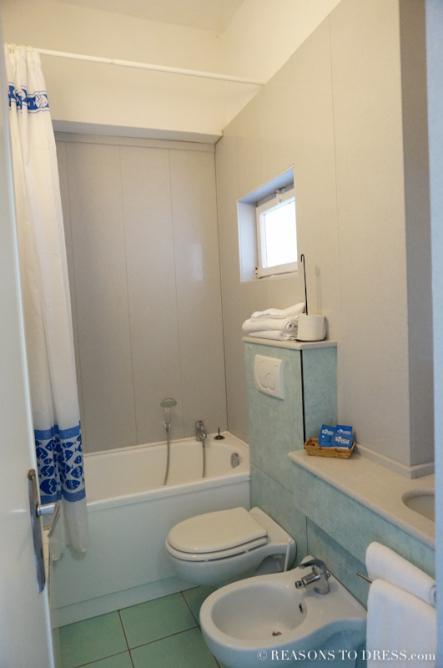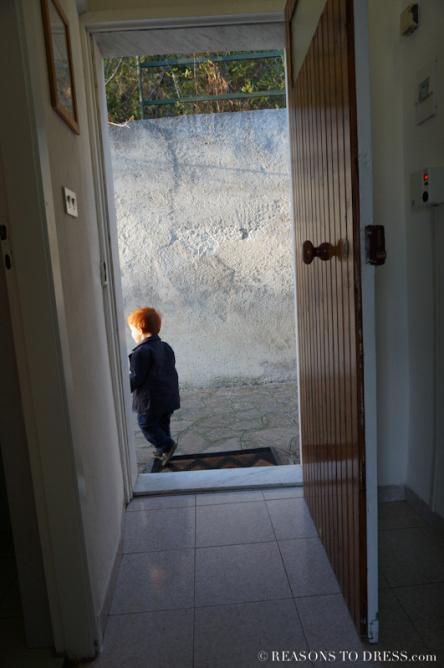 Bed linens and towels are provided and changed weekly, however, don't expect heat in May or air conditioning in August!  Although they are rated 4 stars, Marco, the owner, has a holistic ideology when it comes to comfort!  If you are hot ….open the windows and let in the sea breeze! A little chilly in the evenings?  Pull out the extra blankets and make a tea!
The kitchen and room were very clean, but you should note that NO FOOD is kept in the cottage (no sugar, milk, tea etc).  There is an on-site mini grocery store equipped with everything you'd need to prepare a fresh and delicious meal and the prices are inline with average grocery store prices.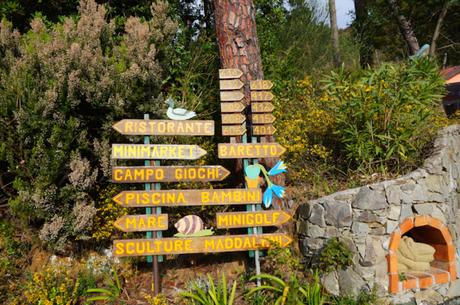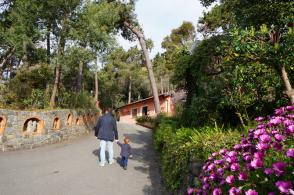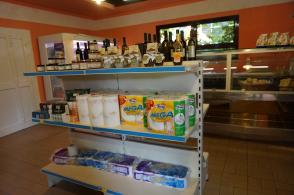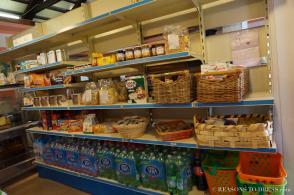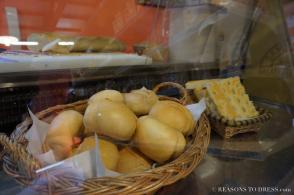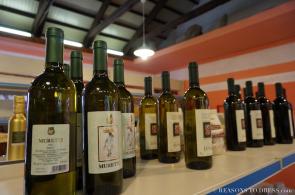 Adult Recreation
You won't get bored at La Francesca!  In the summer time they have weekly music nights with live entertainment and between the adult swimming pool, tennis courts and hiking trails there are plenty of activities to keep you in shape.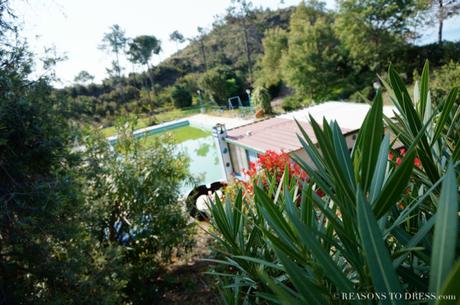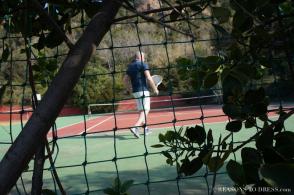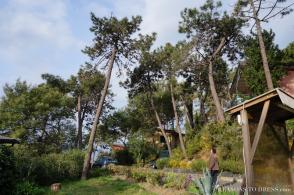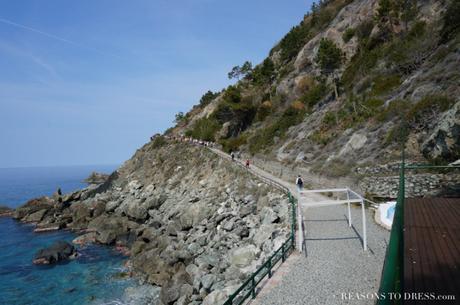 La Francesca Resort is situated on 15 hectares of coastline, and within the complex itself you will find wonderful trails to enjoy the view of Le Cinque Terre.  As I've mentioned before you can also take the man made stairs down  to their stoney beach and from there you can access the walking trails to either Bonassola or Levanto, the neighboring towns, which are directly connected to Le Cinque Terre by train. PLEASE NOTE: you cannot access this hiking trail with a stroller unless you carry it down the stairs.  If you are visiting with a young child I recommend a carrier!
Hospitality
For an extra 30 euro a day per person (adult price) there is the half board option available which includes a simple breakfast of coffee and bread at the caffe and a three course dinner in the evening.  WE LOVED this option and made good use of the dinner.  A full day of sight seeing from 10 am to 6 pm meant that we were back in our cottage at 7 and ready (starving!) for dinner at 8.  Just before dinner you can enjoy the stunning sunset from the restaurant terrace.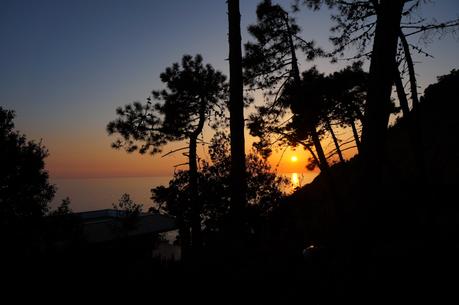 The dinners were delicious, prepared by their Chef, an ex-fisherman with a knack for reinterpreting classic Genovese and Livornese dishes with local fish.  Everything we ate was very good, however you should note that dinner is not served before 8 pm!  Fine by us (we're on Italian time), but something to consider if you're used to dining at 6.  Most restaurants in Italy do not serve dinner early so you'll want to make use of your kitchen or find more touristy spot that serves dinner, pizza and snacks all day.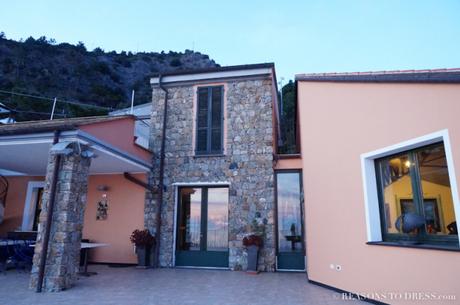 The Resort Restaurant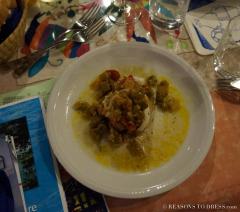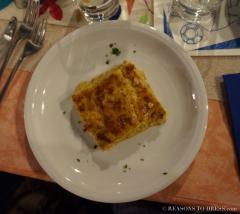 I recommend the half board (mezza pensione) option on your first night because it includes the simple breakfast the next day, which you can quickly enjoy before your day of sightseeing!
Getting There, Rates & Info
The Francesca Resort is located in the area known as "La Francesca" a 15 minute walk from Bonassola's center.  We arrived by car, taking the winding roads up and down the coastline.  Many of their visitors arrive by train in Levanto (an important city just minutes away), where you can take a cab ride for approximately 15 euro from the train station directly to the resort.  Please organize your taxi ride through the Resort itself as they have a taxi partner and special rate.
We had our car with us so we were able to more freely enjoy the area, however, even with a car we still chose to drive to the Levanto train station (15 minute drive from the resort) and take the 5 minute train ride into Le Cinque Terre National park.  The train stops in the city centres of each of the five "lands" and it is the main way that tourists explore the area.
View Larger Map
I highly recommend visiting Le Cinque Terre in the early Spring (April, May), where you can benefit from the perfect spring temperatures and excellent discounted rates (their special rates can be found  here).  This is also an excellent summer vacation in July and August, however, this is a luxury part of Italy and the prices reflect that.  When considering your stay at La Francesca Resort please take into consideration that the price includes the extensive maintenance that is done weekly to the grounds to keep the landscape intact….in other words you're not paying for bathrobes and slippers but for 1,000 year old aloe vera plants and a perfectly preserved landscape!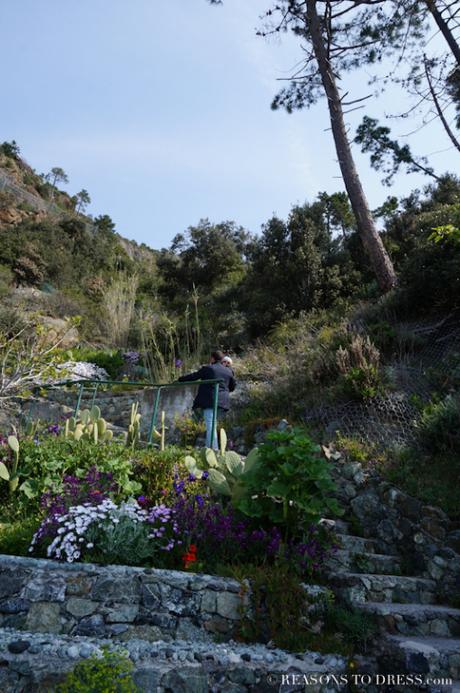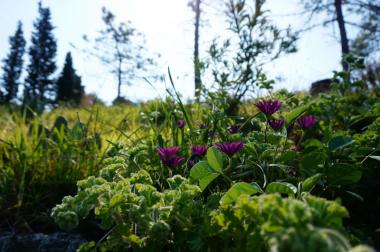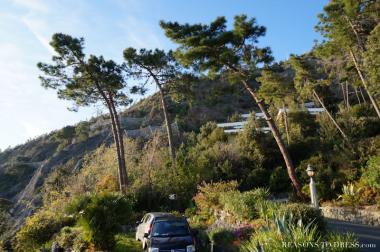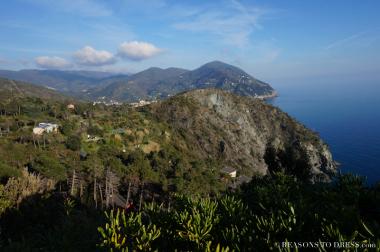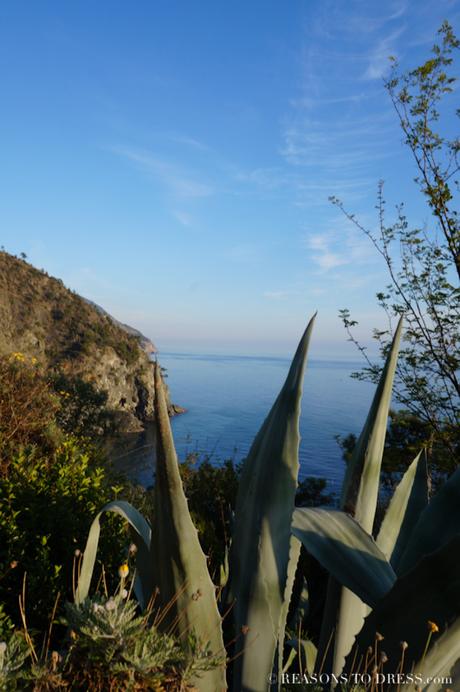 If you found them through my blog or decided to book because of what you've read please let them know and you can receive between 5% and 15% discount (depending on the length of your stay)!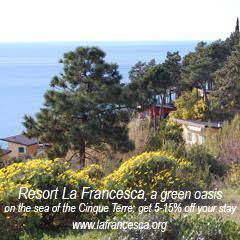 LA FRANCESCA RESORT
http://www.villaggilafrancesca.it/en/
Località La Francesca, 19011 Bonassola (SP)
(+39) 0187.813911 / 813620      fax (+39) 0187.8139108
e-mail: [email protected]
Central Bureau for reservations: Via San Marco 24, 20121Milanoph. (39) 02.6575639          fax (+39) 02.6599301Info: 8.30-19.30
Feel free to follow Reasons to Dress on Bloglovin' so you never miss a post!
You'll get one email a day with all the new posts from all of the blogs you follow.