I know everyone has probably seen a million of reviews for these shadows, but as always, I want to offer my two cents.  I was pretty late in trying these shadows, but better late than never.  As of now, I have 4 shades.
Shades
Eternal Sunshine 997: a true shimmering gold
Infinite Sky 222: shimmering silvery blue
Bronzed Taupe 890: a bronzy taupe.
Golden Emerald 335: light sage green with gold shimmer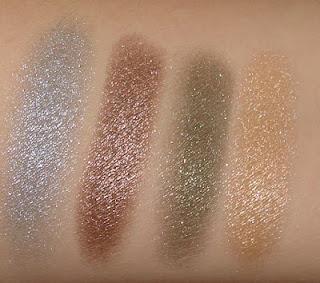 Infinite Sky, Bronzed Taupe, Golden Emerald, Eternal Sunshine
Pigment and Texture
The pigment is wonderful.  It actually blew me away at first. The colors are very rich and vibrant.  For most of the shades, you need very little on your brush. The only exception was Eternal Sunshine.  I had to use a little more of that one, but it is still a beautiful color.  The texture is great and unlike anything I have ever used before.  It is very much like Armani's "Eyes to Kill" shadow.  It offers the pigment and staying power of a cream shadow with the blendability of a powder.  This eyeshadow is very smooth and easy to blend.  Other than Wet n Wild shadows, this is the best inexpensive shadow I have ever tried.  And as I have said before, I am very picky when it comes to my eyeshadows.
Staying Power
For the most part, the staying power is wonderful.  Once again, Eternal Sunshine is the only one that gave me a slight issue.  It faded and creased more than the others.  But my eyelids can get pretty oily.  I did not have any problems with fading or creasing with any of the other shades.  They stay on all day.  I can't say that they will last 24 hours because I never wear makeup for that length of time.
Packaging and Price
The packaging consists of a simple pot with an insert to keep
 the shadow pressed down.  The pots are made of sturdy plastic and the tops are the colors  of their respective shades.  Depending on where you buy them from, these shadows are between $8-$10.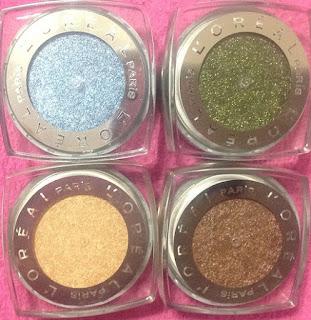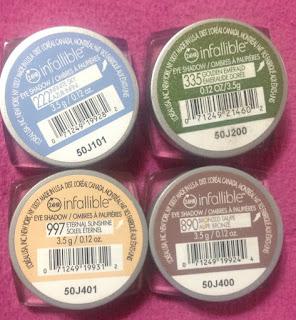 Overall Impression
I love L'Oreal's Infallible 24 Hr shadows.  They are wonderfully pigmented, smooth and have great staying power.  There is also a good variety of shades and each pot will last a long time.  The price is good, too considering similar products are more expensive.