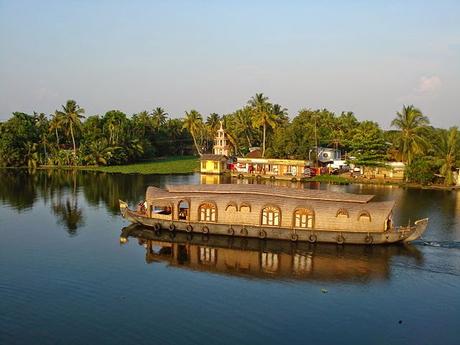 Kerala in south India is blessed with some of nature's best gifts. It is no wonder that it is often
quoted to be God's own country. It has earned itself such repute because of the many credits it has to its name. It is replete with some of the most beautiful beaches in Kovalam and Varkala. Other than that, there is a significant group of museums and forts and palaces that are sprawled across the state that one could take interest in. 
Kerala's tourism industry has been one of the driving forces of the economy in the state. In addition to that, Kerala is also one of the most literate states in the country and there are several men of letter who hail from here. There are musicians, literary geniuses and even politicians at the Center who hail from Kerala. And one of the most captivating features of Kerala is its enchanting backwaters.
While there are several places in Kerala which have concentrations of backwaters, a little place calls Kuttanad is one of the interesting places that could be an option. For those of you who are traveling here for the first time, here are a few pointers. Its lush green landscapes and breathtaking sights have made it a favorite in the minds of those who love to travel and explore. In addition there are several waterways and trees of bananas, yams and rubber are also in plenty. 
One of the interesting features of this place is the fact that many of the fields here lay below the sea level. This is one of the things that interest people to go here. And the backwaters make it all the more magical and enchanting. 
One of the benefits of going here for backwater tours is that often you get to experience the festivals that are celebrated here. For example Moolam Kali is one among the festivals that are celebrated with much pomp and ceremony. The Kuttanad backwaters tour comes as an addition to the other features of the tour packages here.
This tour will take you into the deep reaches of Kuttanad and you will get to experience the beauty and the freshness of the greenery that lays there. In addition to the regular tours, there are also the honeymoon tours that one can avail if necessary. People often go to Kuttanad in order to take some time of their busy schedules and lives.
 It has also found a place in the heart of foreign tourists witnessing tourist from many European countries and also from America. It holds a captivating charm that has attracted people from all over. 
With all of the different facets of Malyali culture, traditions, and festivals, Kuttanad is one place that you must not miss out on going to. The backwater tours will take care of the food as well, of course, which includes a wonderful platter of authentic Malyali cuisine. On occasion, travelers are given coconut water, most often before breakfast and in the evenings.