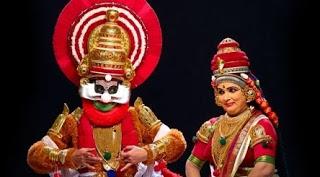 Kerala got its nickname as 'God's own country' for many reasons like its unmatched natural
beauty, the peacefulness and tranquillity of its environment, the extremely warm and friendly attitude of the people and its rich cultural and historical heritage. It is one of the few states in India which has so much to be proud about. 
Not only it is one of the most visited states in India but is also one of the most admired states for the diversity it has to offer its visitors. A visit to this state once in your lifetime will completely change the person you are for you will witness beauty and magic in a way like you have never done before. 
One of the star attractions of Kerala is its various art forms and dances that bring people from all over, either to witness it or to learn it. One such major for of art is Kutiyattam or Koodiyattam. 
It is a very ancient form of Sanskrit theater that was performed in ancient Kerala, especially in the Hindu Temples. It is somewhere around 2000 years old and has been an integral part of the religious life of the local people. 
Kutiyattam is one of those rare forms of art that has caught the attention of UNESCO. It has now been officially recognised as 'Masterpiece of the oral and intangible heritage of Humanity' by UNESCO. 
The word Koodiyattam means combined acting. It is a kind of drama in Sanskrit which was traditionally performed in the temples of Kerala in the ancient days. It formed a very important part of the rituals performed in the temples and is the only surviving specimen of this ancient art; hence a lot of attention is being paid to its preservation and conservation. 
The origin and evolution of this masterpiece still remains a mystery however it is very old as it finds mentions in ancient literary texts and texts related to the ancient kings and rulers of south Indian like the Pallava, Chera, and Chola.
 Various temples in south India also has inscriptions related to this art form which signifies its importance and value. This form of art involves narration of ancient Puranic stories and a solo gestural performance of Krishna Leela by a female and a theatrical performance in Sanskrit. 
Koodiyattam or Kutiyattam is only performed by people belonging to specific community called Chaakyars who are supported by Nambiyaars and Nangyaars. It is nothing but temple art where the Chaakyars are the main actors; the Nambiyaars are the drummers and Nangyaars the participating performers.
 All these three people dance, sing and act in perfect rhythm unfolding a perfect performance that makes your senses happy. 
There are special theatres in temples called Koothambalams for the performance of this act. This art form is complimented by various traditional musical instruments like Mizhavu, Kuzhitalam, Etakka, Kurumkuzhal and Sanku. 
All these instruments are played in perfect harmony for the perfect execution of the performance. This form or art forms a very important part of the religious life of the Hindus in Kerala and are observed with great respect.