Having worked in magazines since 2006, I've learned a lot along the way. One valuable lesson I've learnt: marketing and packaging is everything. How else do you think companies are able to differentiate mascara A from mascara B, C, D~Z?
Similarly, without marketing and packaging, the USPs of each product would not be highlighted – which is why I strongly advocate dressing to market yourself.
I once interviewed an image consultant during my days at CLEO, and she said that your outfit is a representation of your character. You're selling yourself to the world – it's also an extension of your behaviour and personality. My ex-colleague was then miraculously enlightened – "Aiyah, no wonder lah. I'm dressing in all these guniang dresses but I'm more of a beer-at-kopitiam type of girl."
Since I'm all Korean culture-crazy, I've decided to do this collaboration with Zalora to show you how to package yourself like a Kpop star – how to koreanify yourself without having to go under the knife. Plus,  in my usual true biased manner, I'm only picking Kpop stars that I like.

Hyuna – The sexy seductress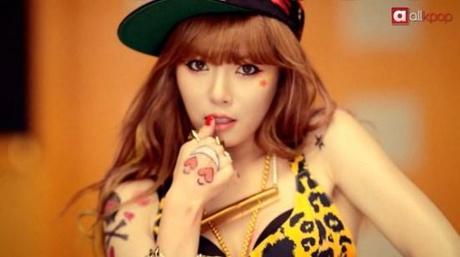 Scandals aside, Hyuna is annoyingly and effortlessly sexy. The Troublemaker is also stick-thin, so leggy girls should find it a breeze to channel her style. Throw in some bright coloured grungy clothes – animal preens if possible, line up those eyes  and don't forget smexy red lips as a finishing touch.

Despite coming out solo from her girl group 4 Minute, Hyuna doesn't deviate much from their fashion style – Pair these printed shorts which channel the group's latest single Volume Up, with the off-shoulder top  – I'd get an oversized one if I really want to channel her Bubble Pop look. Remember, the girl loves to reveal, and so should you.

Of course, you can never go wrong with animal preens – I'm loving these shorts from M)Phosis (I'm pretty sure I have the blazer version of this).  Alternatively, go glam-skank with these Vero Moda gold sequinned ones that I'd totally wear if I were skinny.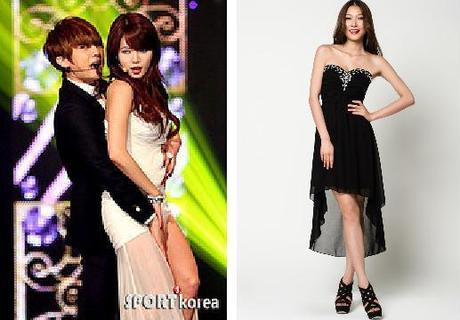 I'm also kinda feeling this black dress with a bejeweled neckline, but I'd totally cut it about 2-3 inches shorter at the front – you know, cos in Hyuna's case, less is more.

The girl seems to like denim and oversized tops as well, so hey, why not grab this dark denim shirt from the guy's section and use it as outerwear? If this animal print cardi is large enough, you can even wear it as a dress. All you'll need is a white singlet inside – preferably translucent.
Suzy – The innocent fresh goddess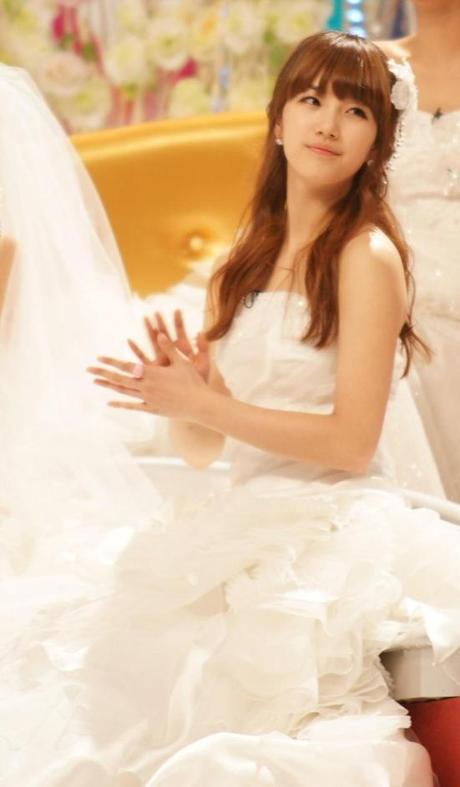 Puh-lease, IU has nothing on my beloved Bae Suzy- hence, the extra large photo of her.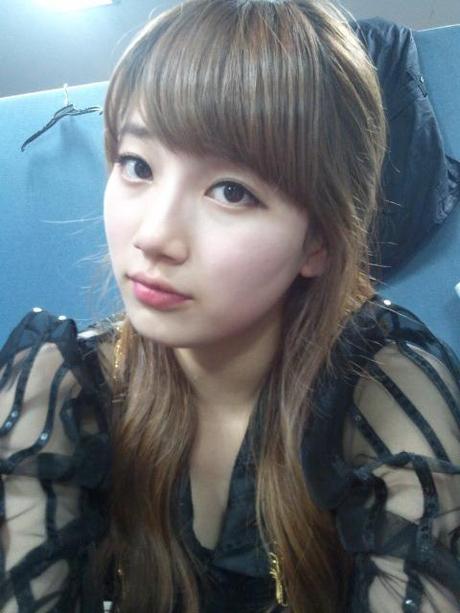 Since IU's fall from grace, Suzy has ascended the throne to be the ultimate innocent and pure goddess of Kpop – not that she wasn't already the best in my mind. Her fashion style is simple – perhaps a dress or a top/bottom combi with an additional unexpected quirk of a hair accessory or colourful bag. Suzy also doesn't bare much, so keep the cleavages and spilling butt cheeks in check. This style is best for days when you just roll, or fall out of bed and have no time to paint your face. Best paired with good skin, so don't skimp on the
skincare products!

This was known as Suzy's baby chick get-up, worn while she was filming Big (which btw was a total bomb of a drama and waste of all the actors'/actresses' talents, tsk). Anyway, she totally makes the full-yellow combi work. Work around this for the upcoming CNY with this chiffon top and skirt combi Don't forget the extra little something (which Koreans refer to as "point" – they're quite literal that way) – a nice thin hairband with a large red bow would be perfect.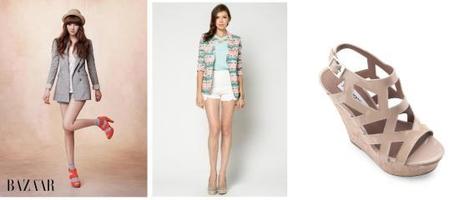 For something a little smart-casual, throw on a blazer onto seemingly-plain looking everyday clothes, and voila! You could be Harper's Bazaar-worthy (omg I hope the HB editor doesn't come after me for this "blasphemy" – sorry Kenneth

) Choose blazers in softer colours, such as this Aztec printed one. This look is best paired with a long shoulder strap bag, plain socks and strappy sturdy heels/wedges – am loving these from Steve Madden, $90.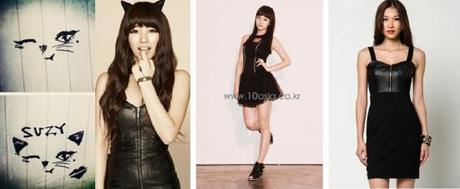 Surprisingly, this sweet girl can pull off pleather – only when accompanied with some cutesy accessory, or paired with some element of cuteness such as a tutu frill bottom, of course. But be careful when accessorizing – you don't wanna cross over to the Brown Eyed Girls' territory of fierceness. I am totally feeling this mixed-fabric dress – it's fitting, it's flattering, and it only costs $49.90. Whut?! Wants, wants, wants!
 Sistar – The spunky and sexy girl group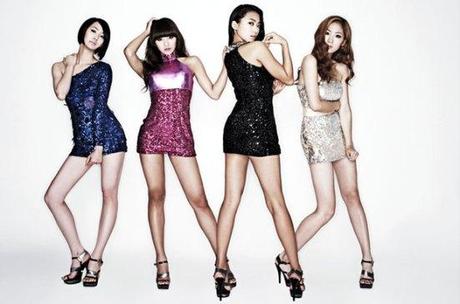 Now this is one group I adore – they totally personify my mantra of "If you have it, flaunt it" (although they might have flaunted a tad too much in their So Cool promotions and too-short outfits). The members of this group (except Dasom) have crazy curves and sufficient meat to look healthy, so everyday girls like you and me can adapt their style easily. Remember – a well-fitting outfit is essential in order not to look pregnant. To further enhance your curves, pick some pieces with frills to give the boys some thrills.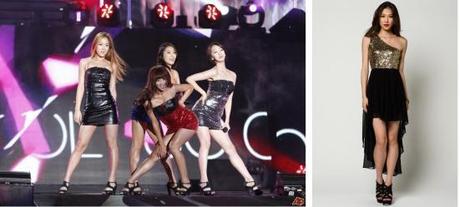 It's pretty easy to go Sistar (who coincidentally also share the same fashion mantra as me) – SSTT (short short, tight tight, coined for me by my girls at CLEO).You can't go any shorter and tighter than what Sistar are wearing, and I'm speaking from experience. Any shorter, and the moment you fart, you'll have a Britney / Paris situation. Since we have to fight a losing battle everyday on our overcrowded public transportation system, maintain some decency with this one-shoulder dress.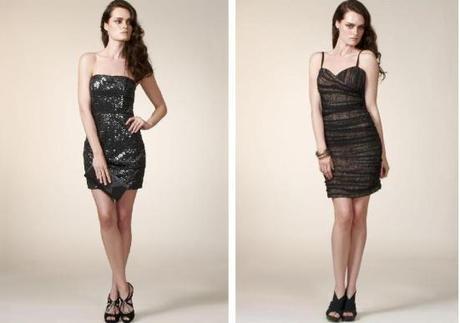 Of course, it doesn't mean that Zalora only sells bum-skimming dresses – I'm feeling this shimmery bustier dress as well , which can be pared down to work standards by throwing on a black blazer. I'm also liking this nude dress with a black chiffon overlay – subtly skanky is what I strive for.
Even when their clothes aren't SSTT, they're still TT, and still showing some skin. Mesh, chiffon and lace are totally my closet must-haves; in fact, I suspect I have something 90% similar to this mesh colour block dress and this lace long-sleeved top as well . To add an edge to these outfits (and to avoid looking like the drunk executive during the annual D&Ds), I usually pair them with Korean walker boots – you can get similar ones here as well.
Of course, Zalora doesn't only cater to the girls – here's how you can style your men to look like my favourite men.
TOP / Big Bang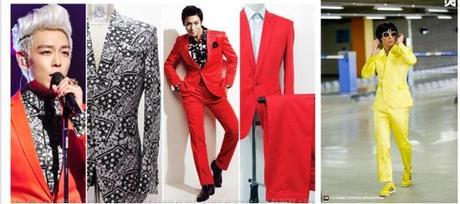 To be honest, this dude is so good looking that you can drape a garbage bag over him and it'll look couture. For the less visually-endowed, make sure your clothes help compensate for your shortcomings. This fella looks the best in suits – do a more casual take on it by wearing a t-shirt inside and a blazer over it. Well-cut jeans or pants would do well in elongating your overall silhouette. If you really wanna make an impression and have the balls to do it, a full hot pink suit or some loud prints would be perfect.

Get a decent good-quality t-shirt – if your outerwear is gonna be outrageous, then pick a plain tee. If your outerwear is gonna be plain, then pick a printed tee. I'm totally feeling this V-neck tee with studs cos it can be worn inside a blazer and alone. I'm guessing it's the wrong season, so the brightest coloured blazer  I can find on Zalora is white, which on hindsight, is pretty pimpsta too.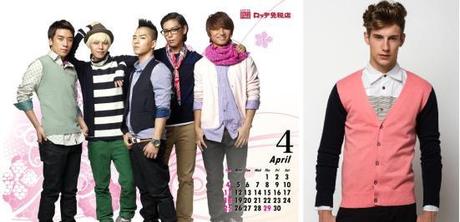 Of course, when Big Bang first debuted, this wasn't their style. Back then they were more school boy hip-hop-jock, which was cute as well. Not only will this preppy cardi  make him look more metrosexual-approachable, if he doesn't like it, you can have it for yourself. Muahaha.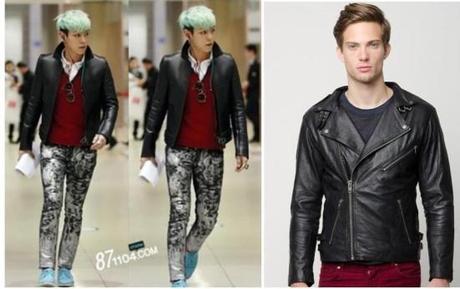 I love Korean stars and their airport fashion – if you're travelling overseas to cool countries, it's your (or your man's) one chance to flaunt the awesome leather jacket without sweating up a storm. Don't forget to invest in a pair of good fitting jeans – girls do check out guys' bums at times ya'know?
So there you have it – my first collaboration with Zalora (check out their TVC here) and my take on how you can Koreanify your wardrobe from Zalora. What's more, since I love you guys, here's a discount coupon code for you. (see how much I wrote just to get you guys a discount?)
Just enter "zaloralove" at the checkout, and you'll get 15% discount!
T&C: Not valid with sale or promotional items. Valid till 31 March 2013.
If you haven't started shopping for CNY, it's time to click away (but then again, when have girls actually really stopped shopping in the first place?) ;p